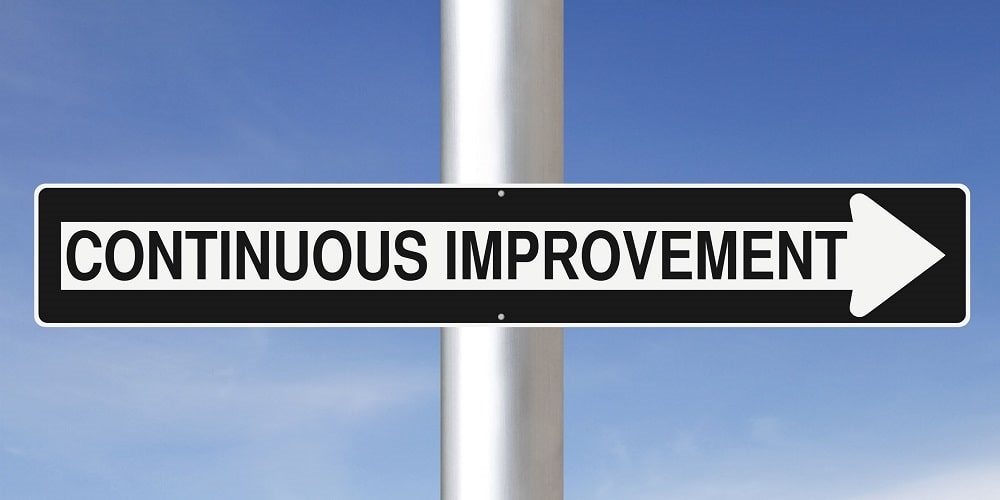 In the coming months, the federal government must ship hundreds of millions of doses of COVID-19 vaccines around the country to inoculate a majority of the population and bring an end to the current pandemic. Among the population that can be vaccinated, any approved vaccine will work just fine. With the enormous health and economic impact of the virus, there is essentially no pushback from citizens on the cost to be successful. Multiple retail partners are lined up to deliver the shots, resulting in an extremely high percentage of the population living within reasonable distance of a vaccination site. And the vaccines, if kept cold, have a long enough shelf life to not raise concerns about expiration.
So there is a single product needing to be shipped around the country with an unlimited budget and plenty of transportation and storage capacity. Simple, but not easy.
In many ways, instituting continuous improvement (CI) in an organization mirrors this situation. Typically, a new initiative starts and ownership is given to someone with ample leadership support, authority and budget. Support exists to train some number of individuals, and there is a mostly standard structure for ensuring the right project selection, coaching and instruction happens. It's fairly textbook at this point – literally – and yet all over every industry there is a graveyard of "deployments" that began with all the right factors. Why is that?
Institutionalizing continuous improvement is simple but not easy.
What Are You Doing?
Maybe it seems like a simple question, but the complexity begins with defining what exactly it is you are trying to accomplish. The terms initiative, deployment and program are the most commonly used terms, but all of those imply something with a finite end point or finish line. Most CI leaders, if asked to describe their mission, would talk about things like culture change that have no finish line. Adding to the inadequate definition, you might hear about methods like Six Sigma, Lean, TPM and others – instead of values. Those methods are all effective, but they are not the mission in themselves.
Defining the mission is simple but not easy. It must have, at a minimum, the following attributes:
True buy-in from senior leadership
Clarity in what success looks like, in terms that are objective
Differentiation between current state and ideal future
While ultimately one might distill this into a single statement, getting there should involve hours of discussion and debate. Once formed it becomes the guiding light for all other actions.
Leadership
My introduction to Six Sigma came about 20 years ago and Lean not long after. In that time, no other success factor has been cited more than leadership buy-in and support. On the surface it is somewhat obvious: If you seek to transform the culture and mindset of an organization, you don't stand much chance if those that control much of the decision-making and resources are not supportive. But again, that is simple but not easy.
CI leaders often mistake financial support for training and a staff of CI professionals as buy-in. But many executives providing that funding see it as an investment with an expected payoff, and if an alternative with better returns presents itself they will move on just as they would from a piece of equipment invested in but made obsolete with newer technology. True buy-in often includes the following actions:
Public commitment to the new mindset
The release of leaders within the organization who refuse to act in a way consistent with the mission, even if performance metrics are good
Championing change that drives the culture but has no hard dollars attached
Elevating the individual responsible for leading CI to a point high on the organizational chart with high visibility
That list is not comprehensive of course, but hopefully differentiates support from true buy-in. A shorter question to ask yourself is "Who is the highest level executive who is willing to be fired if the mission fails?" If that individual sits on the executive leadership team, you're in good shape.
Change Management
Many processes that CI organizations seek to improve are highly repetitive across the organization. For example, one might focus on just one of 100 production lines or on a back office process in one department that exists in 13 others as well. Solutions that are effective get amplified in value if they are replicated through integration into standard work throughout all equivalent processes in the organization. But taking a new process and getting it ingrained throughout an organization is – you guessed it – simple but not easy.
Most processes involve human behaviors and habits, and those are difficult to change and often require things like layered process audits, poka yoke and effective standard work use to happen. Putting a solution in place among 20 teams is 20 times as difficult as one team. It doesn't get meaningfully easier or become less work as more are included because to each team it is new. Many CI professionals seek to avoid that true work by relying on simple training or mass communication, because that would make things simple and easy. However, effective change management is not easy work and requires commitment to see the change all the way through.
Training
Another aspect of building a continuous improvement culture is training. After all, at every level of the organization individuals will need to understand new expectations, methods and terminology. Many organizations have attempted to make this simple and easy by simply blasting out courses and setting goals for the number of people trained. After all, if 10 percent of your company has been trained as Green Belts and 1 percent as Black Belts then you must be getting somewhere with CI, right?
Unfortunately for that learning to be ingrained in the actions and mindset of the company requires far more than butts in seats in a training course. Learning hierarchies have been well-documented that demonstrate simply listening to lectures is not particularly effective. Employees need to apply tools, experience new methods, and be coached and supported. None of that is easy. CI leadership should be spending far more time interacting with the organization on solving real problems than in front of the classroom. And front-line employees are better served by learning the basics as part of a Kaizen or similar event where they experience being treated with respect for their knowledge and given ownership to eliminate waste. Utilizing data to prove solutions and demonstrate the results to senior leaders will only serve to send an even stronger signal that the company means business.
The Light at the End
As of writing, about 100 million Americans have received their first dose of the COVID-19 vaccine. Organizationally, things have steadily improved as has output from the manufacturers. It seems likely that by summer almost any adult in the United States who wants a vaccine will have received one. The mission is simple, but nothing about the execution is easy – every one of those shots had to be manufactured, distributed and administered just like the first ones.
Starting out, even with the right factors in place, developing an organizational mission centered on CI may feel simple and easy but as the course gets charted and underway it becomes obvious it won't be easy. But by embracing the true work needed for the change and planning around it, there will soon be a light at the end of the tunnel. Of course there's no "finish line" but once the true work is understood and the organization is developed to support and execute that work, a feeling of momentum will develop.
Hang in there.