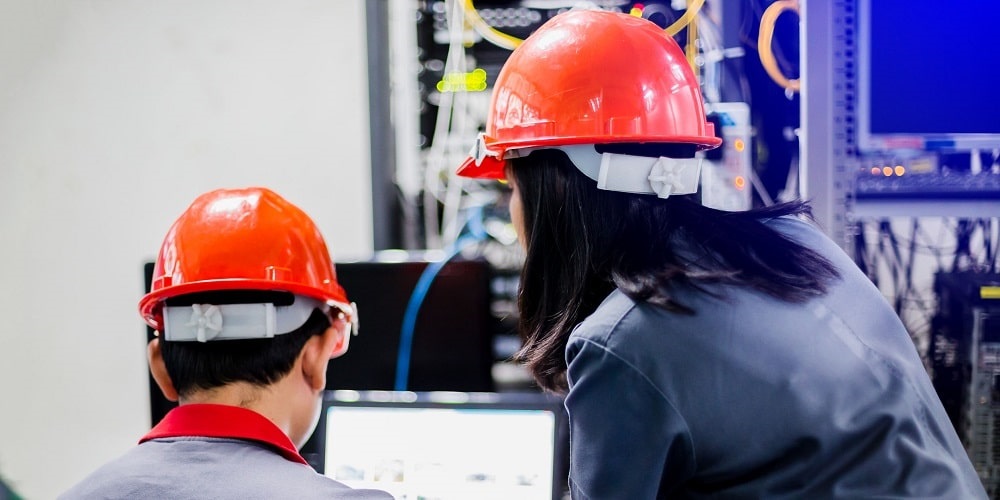 Lean is critical to TestOil's culture and everything we do. It is also key to the profitability of our business.
TestOil's Lean History
We began our Lean initiative in 2015 with the encouragement of founder and CEO Dan Richards. The initial goal was to reduce waste and improve efficiency. For the next three years, TestOil used, but never fully leveraged, the power of Lean. In 2018, Mary Messuti joined as COO; she is now president.
About TestOil
With more than 30 years of experience in the oil analysis industry, TestOil focuses exclusively on assisting industrial facilities with reducing maintenance costs and avoiding unexpected downtime through oil analysis program implementation. Located in Strongsville, Ohio, TestOil's 98 employees serve customers around the world in diagnosing oil-related issues in equipment.
Mary came to TestOil with a strong Lean background. She embraced and promoted Lean as a top-level executive at global organizations for more than 20 years. At each company, she provided employees with the opportunity to achieve Black Belt certification. Working with these employees has been one way she keeps her Six Sigma skills fresh.
One of Mary's primary goals at TestOil was to revitalize our Lean initiative. When she first arrived, TestOil was in the process of doubling the size of its oil analysis lab. We were growing and wanted to increase the quality and speed of throughput. To do that, we needed to improve efficiency not just in the lab, but also in other areas including IT, shipping and logistics – always with the primary goal of providing better value to customers. Building Lean into the process meant that everyone would have a say in how their new workplace would be designed.
Training
Lean training is part of the onboarding process. We also provide coaching and invite employees to participate at all levels and attend Lean events. Regular Lean activities include design of experiments (DOE), rapid PDCA (plan, do, check, act) cycles, going on gemba walks, Kaizen events every quarter, and identifying and analyzing the key performance indicators (KPIs) and countermeasures that will promote improvement.
TestOil introduces people in all job functions to Lean Six Sigma (LSS) during their first week of onboarding. As of the end of 2020, there are five Six Sigma Green Belts at TestOil representing a range of job functions; all are encouraged to pursue additional certifications.
Ongoing training has occurred through a variety of programs including universities, online classes and internal employee programs. Our membership in the AME (Association for Manufacturing Excellence) Cleveland Consortium is also a key component to our ability to continuously improve with Lean.
How LSS Works at TestOil
In February 2020, TestOil brought me onboard to take its Lean program to the next level. I have been working with Lean initiatives since 2016. Before joining TestOil, I was developing value stream maps and implementing Lean operations in a plastic molding manufacturing company. At TestOil, my job is to eliminate waste, tighten the communication loop and deliver value to customers as quickly as possible. To accomplish this, I mentor staff, drive continuous improvement efforts, and implement the Lean strategic plan including Kaizen events and operational excellence meetings.
TestOil's core values include customer is king, continuous improvement, learning, energy and responsibility. All of these are embodied in Lean. Lean is one of the reasons our employees feel heard and know they have a say in making the company better. As a process is streamlined, the seven Lean wastes are reduced and work output increases.
While TestOil respects different approaches taken by other organizations to institute improvements and solve issues, Lean allows us to clearly see waste along the process, identify future improvement plans and develop a streamlined implementation plan to reduce non-value-added activities.
Lean has given us a culture of continuous improvement that enables us to strive for and initiate positive change. Our culture of adopting change without hesitation and simplifying processes creates a culture of dynamic enthusiasm.
Our Lean department has defined "customer" as everyone working at TestOil, which ultimately translates to the service we provide to external customers. Through Lean, we have improved our service to clients by minimizing and eliminating unnecessary processes in the lab that affect timely completion of oil sample testing. Integration of Lean in all departments lets us strive toward one common goal: Be Remarkable in Every Way.
The Difference LSS Continues to Make at TestOil
Lean continues to help us mistake-proof our processes as well as introduce automation with human involvement and institute quality checks at the source to eliminate errors in the beginning of a process. In addition, it shows us how to continually eliminate waste.
Our Lean vision is to have fully optimized processes with all their values defined by a flow that is mistake proofed. We will continue to fully support the total production management (TPM) pillars along with jidoka (autonomation) and just-in-time (JIT). In addition to those already mentioned, we are using the following LSS tools routinely to accomplish our goals:
A matrix to identify the six big losses in production
Voice of the customers
Continuous 5S
Introduction of single minute exchange of die (SMED) wherever possible
Implementation of the DMAIC (Define, Measure, Analyze, Improve, Control) process
One Kaizen event per quarter
As we keep growing, every new workspace will be designed with Lean principles. For TestOil, being Lean is a continuous journey of adopting changes and pursuing perfection – a relentless effort toward improving people and process. As Mary Messuti says, "Anytime you implement Lean you are building quality into everything you do."
TestOil continues to approach issues by removing non-value-added activities, reducing variation in steps and ensuring there is no room for error between each step. The integration of all eight pillars of TPM is a goal we are working on. This will ensure each process is well defined and documented. It will also guarantee flawless knowledge management and instill a sense of responsibility for equipment with each team member.
We want to give back to the Lean community and share our Lean processes with others. To that end, we invite readers to see Lean in action by taking a tour of our ever-expanding lab.
Contact the author to make arrangements
.
The bottom line is that being Lean is a continuous journey of adopting changes and pursuing perfection. This journey of pursuing perfection is all about having synergy within our organization to improve by understanding the customers' needs, company goals, process flow and opportunities to eliminate waste.
Successes
In 2020, we achieved cost savings of $200,000 compared to $89,000 in 2019. We also saved approximately 70 miles in motion by reducing footprints in the lab and the office area. Apart from that, we held four Kaizen events in 2020 to resolve issues and streamline new product development process.