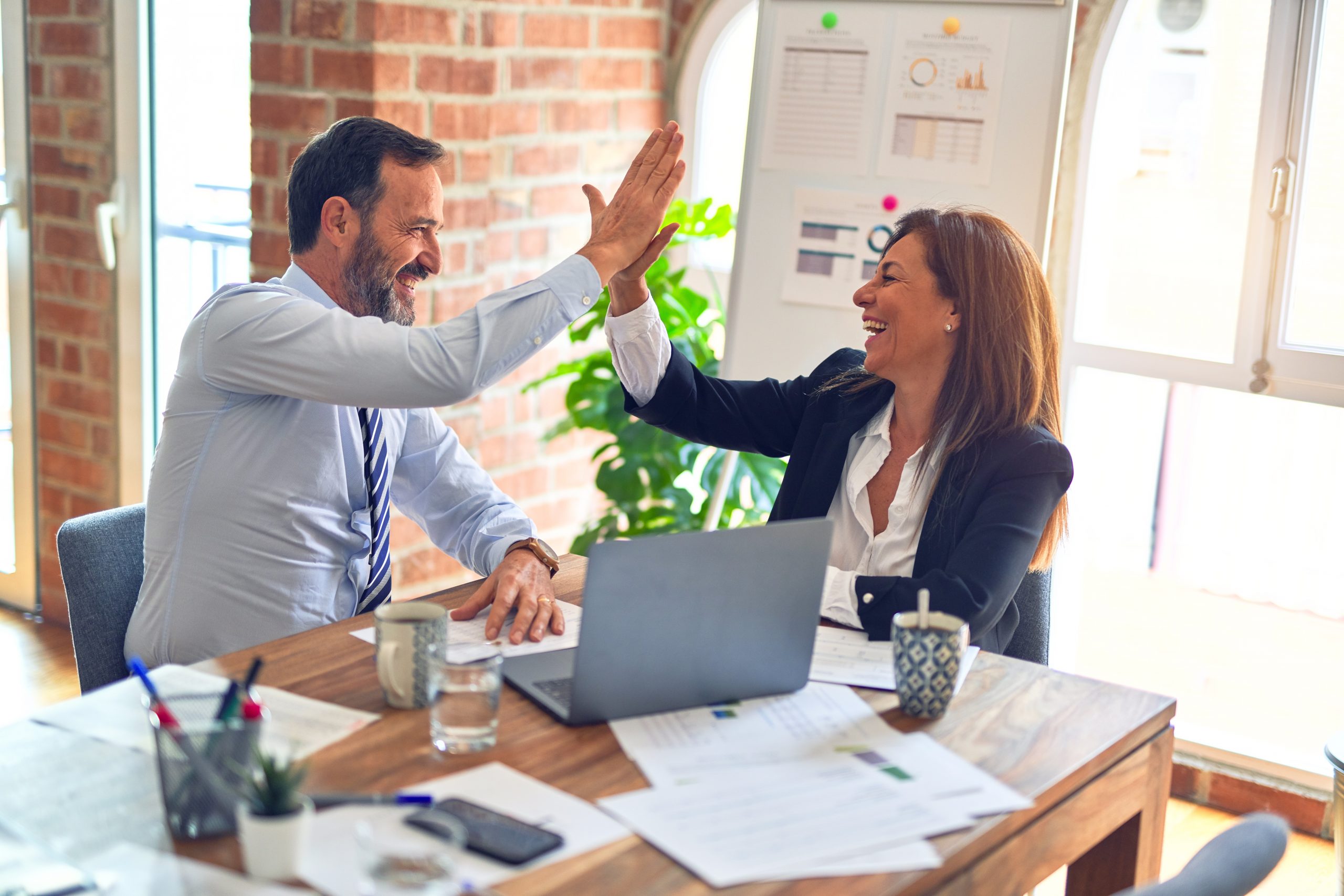 The ultimate goal of any Lean Six Sigma program is to achieve operation and execution excellence, which can only come about through a well-thought-out and executed deployment governance framework. A governance framework enables an organization to more rapidly implement positive change by establishing team structure, focusing on knowledge transfer and enabling people.
With this framework, the Lean Six Sigma deployment will have a greater impact on the overall change culture at an organization and bottom-line results by:
Improving business process capabilities in delivering products and services.
Reducing non-value-added activities and waste in business processes.
Fostering cross-functional and team-based approaches to problem solving.
Empowering employees at all levels to participate in improving the business.
Establishing a common philosophy and language across the enterprise.
The deployment governance framework for a Lean Six Sigma program should be established under the leadership of the Champion and a steering committee of key stakeholders and process owners who will oversee all aspects of the rollout. Lean Six Sigma should be deployed as a management philosophy as well as a problem-solving methodology for creating new business processes or improving existing ones. The business philosophy must be supported by a governance structure starting with a leadership commitment and ending with project-based improvement activities that support – from top-down and bottom-up respectively – the daily performance of the business processes.
The example governance structure below creates the context for executing the deployment by enabling the culture-changing building blocks of team, knowledge transfer and people.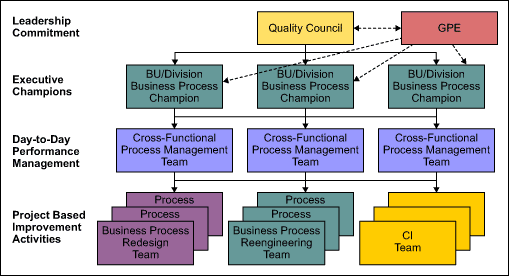 Building Team Structure
Critical to the success of the process improvement effort is the makeup of the team. Membership on the process improvement team is dependent on the scope of the process in question, but should not be defined solely by subject matter expertise. The differing viewpoints of management, process participants and the customer also should be considered. Involving key resources from the wider organization and outside the process brings objectivity. Stakeholders who are both pro and con should be included as a way of creating and measuring the organizational buy-in to the process improvement effort.
At this point leadership engagement and accountability across the company and on the project teams is critical. Project measurements can determine if the project is on track internally, but only measurement of cross-company accountability (success metrics) can determine the organizational impact of the effort.
From the beginning, the team needs to execute all the traditional vehicles for project success and governance around work plans, issues lists, budgets and so on. Additionally, a comprehensive communication plan that includes all stakeholders, associates and customers should be created and used.
Focusing on Knowledge Transfer
There are two types of knowledge transfer that a good deployment should provide. One is specific job training, often delivered in a classroom setting with supportive, on-the-job coaching. The second type of knowledge transfer is less weighted toward classroom training and more toward shadowing and on-the-job coaching. In either case, knowledge transfer is a way of supporting the organization through a culture shift to a continuous improvement work environment. Most likely, a proper governance framework will require both types of training.
Under a job training program, the following may be provided:
Job designs, including job descriptions and competency modeling
Individual assessments using existing and/or newly developed tools to provide appropriate job matches, assignments and development plans
Organizational assessments to identify resource gaps, staffing needs and training needs
Training content development and delivery (train the trainer if appropriate)
Performance coaching program development and training
Ongoing performance management and evaluation program and training
A culture shift program may include the following:
Implementation of a targeted and integrated communications program
Design and implementation of a highly visible, organization-wide continuous improvement program and process
Leadership and management training or coaching to model desired behaviors and practices
Design and delivery of training (classroom, computer-based and other)
Revised performance management program that integrates corporate values and desired behavior into job criteria and expectations
Development of targeted rewards and recognition programs
Design and development of ongoing communication vehicles to celebrate successes
Supporting People
In many ways, an experienced Champion acts as a relationship manager who specifically focuses on the "people" issues related to the process and technology changes. The Champion partners with client leaders and managers to develop the plan for employee transition. A key component of that plan is the knowledge transfer aspect. Often, the Champion continues long after the initial engagement to assist in identifying opportunities for continuous improvement or adjustment requirements brought about by changes in the business or environment. The Champion is best positioned to support future adjustments and changes because of their initial involvement.
A truly successful governance framework creates a culture committed to a continuous learning environment for management and associates. A continuous learning organization will systematically share specific updates and newsworthy industry developments. It will work together with the business units to incorporate new content into the existing training and materials based on industry best practices.
Deliver Without Fail
A successful Lean Six Sigma effort is often dependant on issues and items beyond the scope of the project work itself. The Champion must work with the organization in identifying and leveraging management practices, reward systems, current human resources systems and policies, and so on. The governance framework will allow the organization to identify upfront the success criteria for critical deliverables and then deliver – without fail.