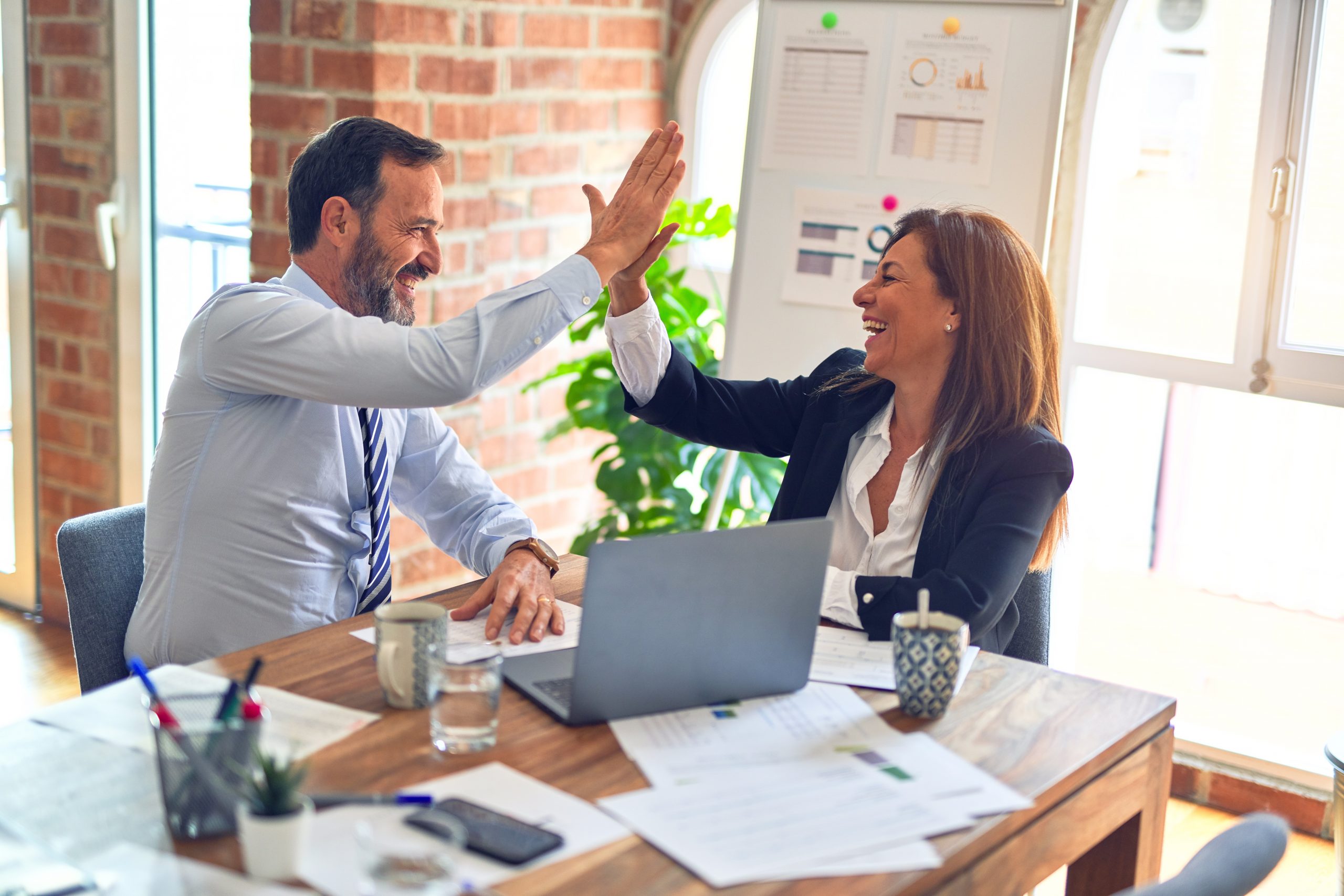 In the 21st century, new technologies will be developed and improved and will eventually be obsolete for the need of more advanced technologies. In this dynamically changing world, product cycles are expected to last for just a few months. To meet these demanding requirements product developers have to develop products in the shortest amount of time that are safe, reliable, and competitive.
Many product development techniques have been developed and discussed. Tools and techniques such as Quality Function Deployment (QFD), Failure Modes and Effects Analysis (FMEA), statistical tools, and Design of Experiment (DOE) can help in this product development cycle. The problems facing most product developers is: Which tool do I use when?
This article guides product developers on a standardized Design for Six Sigma (DFSS) roadmap for the development of products from the stage of specified customer requirements or technical specifications derived from a QFD. This roadmap displays the sequential use of tools for the development of robust products.
Two Types of Quality
Type 1: Customer Quality – The features that customers want.
Type 2: Engineered Quality – The problems customers do not want.
Customer quality leads to the size of the market segment. It includes items such as function, features, colors and designs. The better the customer quality, the bigger the market size becomes. In order to obtain the market size, the price must be reasonable. Customer quality is addressed primarily though customer surveys and series of QFDs.
On the other hand, engineered quality includes defects, failures, noise, vibration, unwanted phenomena, lowering the cost of manufacture, and minimizing manufacturing problems.
Robust Products
Every engineer's dream is to design a product or process that exhibits the state of 'robustness.' However, few can actually make the claim that they know exactly what robustness means. The most appropriate definition of robustness, as described by quality guru Dr. Taguchi, is the state where the technology, product, or process performance is minimally sensitive to factors causing variability (either in the manufacturing or user environment), and aging at the lowest manufacturing cost.
Project Team
The entire product development process should be undertaken by a project team that includes marketing, manufacturing, design, quality assurance and vendor development.
Flow Charts Provided
The flow charts below explain the method of developing robust products in the shortest time. The flow charts refer to various other check sheets as annexes, which can be used during the development. Additional check sheets can be developed depending on the type of products you are developing. It should be noted that the provided check sheets are not exhaustive in nature.
Design Of Experiments
The DOE techniques mentioned in the flow charts can be of Full Factorial, Fractional Factorial, Placket and Burman, Response Surface Methodology, Mixture, Static Taguchi Design or Dynamic Taguchi Design depending on situation.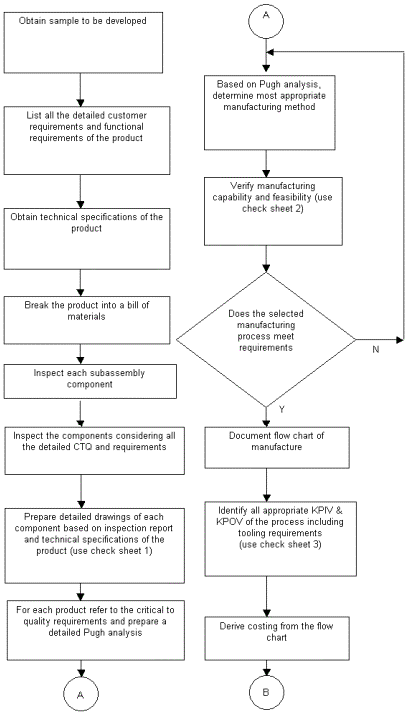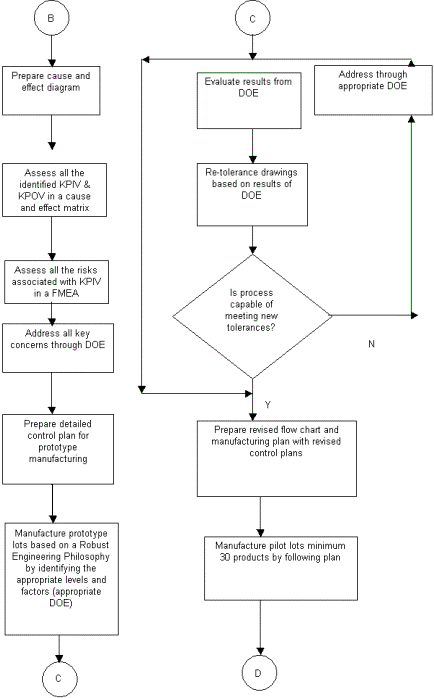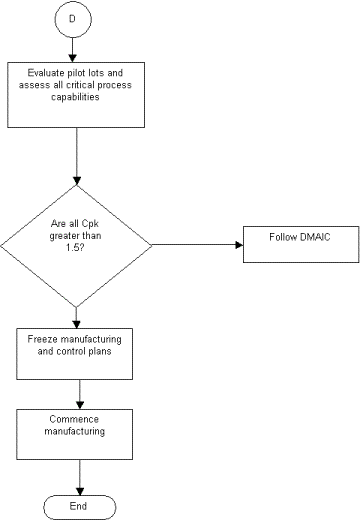 Check Sheet (1) for Drawings
| Number | Particulars | Yes | No | Action Required | Responsibility | Date |
| --- | --- | --- | --- | --- | --- | --- |
| 1. | Is tolerancing correct as per manufacturing capability? |   |   |   |   |   |
| 2. | Have all CTQs been identified on the drawing? |   |   |   |   |   |
| 3. | Is a bill of material complete and a part of the drawing? |   |   |   |   |   |
| 4. | Are reference dimensions identified to reduce inspection? |   |   |   |   |   |
| 5. | Are there any specifications specified that cannot be evaluated using known inspection techniques? |   |   |   |   |   |
| 6. | Are all material characteristics identified and specified on the drawing? |   |   |   |   |   |
| 7. | Are all dimensions that affect fit, function and durability identified and tolerance specified? |   |   |   |   |   |
Check Sheet (2) for Feasibility
| Number | Particulars | Yes | No | Action Required | Responsibility | Date |   |
| --- | --- | --- | --- | --- | --- | --- | --- |
| 1. | Is selected process feasible for manufacture? a. Technically b. Cost wise |   |   |   |   |   |   |
| 2. | What inputs will the supplier need? |   |   |   |   |   |   |
| 3. | Are needed inputs provided? |   |   |   |   |   |   |
| 4. | What is supplier's feedback on achieving critical to quality for process? |   |   |   |   |   |   |
| 5. | Is there any process capability study done on the process? |   |   |   |   |   |   |
| 6. | What tolerance the supplier will be comfortably achieving? |   |   |   |   |   |   |
| 7. | Is supplier capable of measuring Critical to Quality? |   |   |   |   |   |   |
| 8. | Does supplier possess sufficient capacity to handle forecasted production? |   |   |   |   |   |   |
Check Sheet (3) for Process Mapping
| Number | Particulars | Yes | No | Action Required | Responsibility | Date |
| --- | --- | --- | --- | --- | --- | --- |
| 1. | Does flow chart illustrate sequence of production and inspection? |   |   |   |   |   |
| 2. | Does flow chart identify all the KPIV and the KPOV of the process? |   |   |   |   |   |
| 3. | Have provisions been made to identify and inspect reworked products before use? |   |   |   |   |   |
| 4. | Is costing derived from the flow chart? |   |   |   |   |   |
| 5. | Is there a separate flow chart for manufacture of tooling? |   |   |   |   |   |
| 6. | Are drawings available for tooling? |   |   |   |   |   |
Check Sheet (4) for Control Plan
| Number | Particulars | Yes | No | Action Required | Responsibility | Date |
| --- | --- | --- | --- | --- | --- | --- |
| 1. | Is control plan derived from flow chart, FMEA, DOE and critical to quality requirements? |   |   |   |   |   |
| 2. | Have all customer concerns been identified on control plan? |   |   |   |   |   |
| 3. | Are all critical Xs identified? |   |   |   |   |   |
| 4. | Is percent contribution of X with respect to Y identified? |   |   |   |   |   |
| 5. | Is appropriate statistical control method identified for the critical Xs? |   |   |   |   |   |
| 6. | Are material specifications requiring inspection identified? |   |   |   |   |   |
| 7. | Does control plan address incoming through processing and assembly, including packing? |   |   |   |   |   |
| 8. | Are functional testing requirements identified? |   |   |   |   |   |