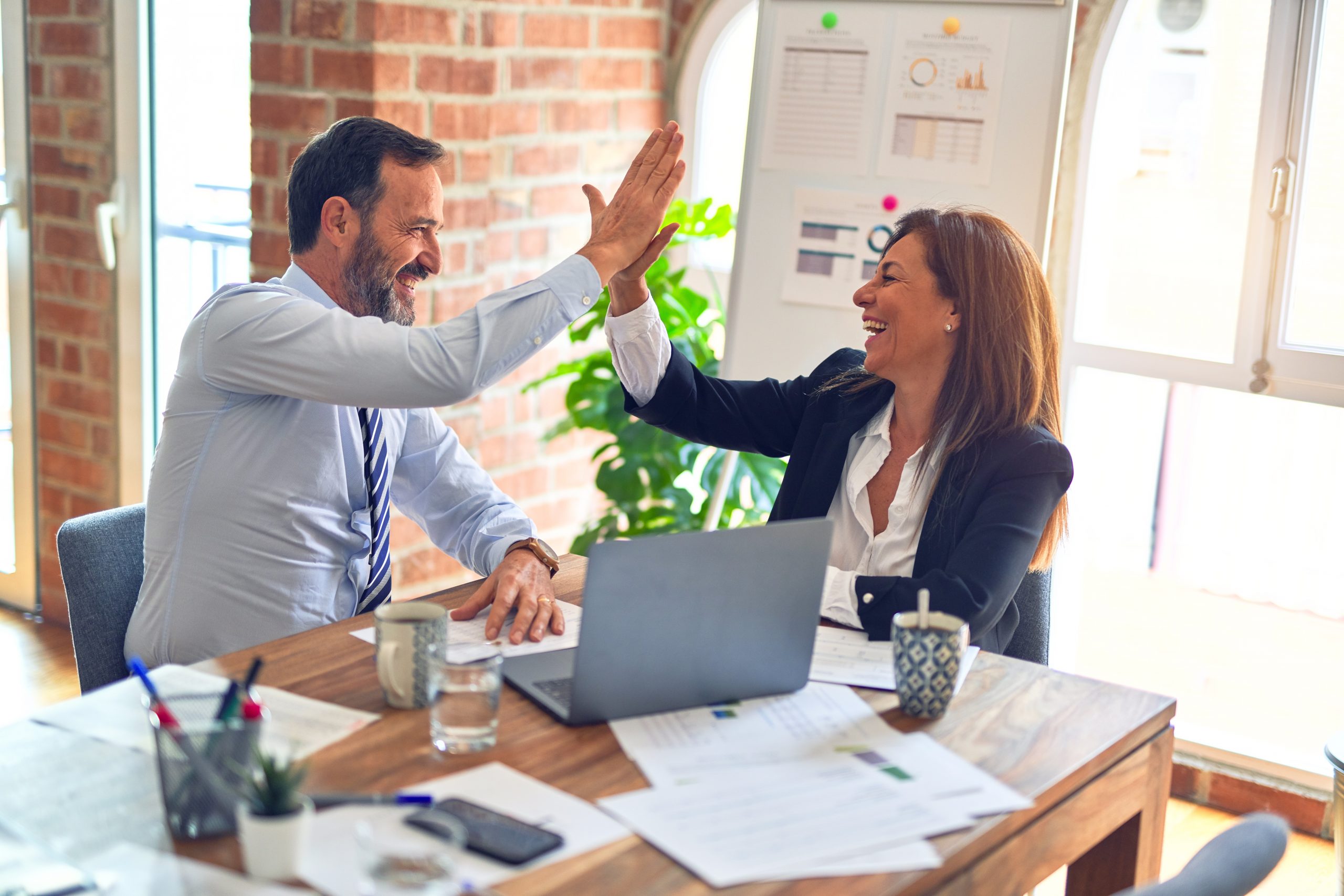 It's easy to feel overwhelmed by the number of different approaches to problem solving. Some of the most common ones are PDCA, DMAIC, A3, 6S, Agile, 5 Whys, fishbone diagrams, and others. In this article, we'll look at the 8D process for problem-solving and process improvement. We will present the benefits of 8D along with some best practices and an example of how to use it. This will provide you with some practical applications for use in your own organization.
Overview: What is the 8D process? 
The history of 8D is somewhat controversial. While everyone seems to agree that the popularity of the approach can be credited to Ford Motor company, the basis of the process is a little less clear. Senior leadership at Ford saw the need for the Powertrain division to have a methodology where teams could work on recurring problems. 
In 1986, work began to develop a manual and training course that would create a new approach to solving engineering design and manufacturing problems. The title of this manual was Team Oriented Problem Solving (TOPS), and it was first published in 1987. But where did the original idea come from?
Many give credit to the U.S. War Production Board, which developed a simple, four-step approach in 1945 for improving job methods. Here's what they looked like.
Image source: allaboutlean.com.
In reality, the 8D process is officially known as the Eight Disciplines of Problem-Solving. To make things a little more confusing, it's really nine steps. While originally developed as 8 steps or disciplines, it was subsequently revised to include a step zero, which was to plan and prepare for solving the problem.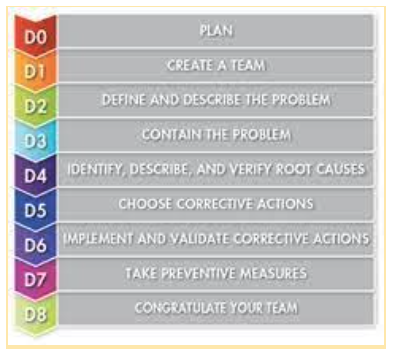 Image source: ASQ.org.
Let's provide a little more detail for each step.
D0 — Plan: Collect information and data on the problem symptoms. Decide what preparations will be needed to complete the 8D process. Decide whether you will need an Emergency Response Plan to minimize or mitigate the immediate impact of your problem on the customer.
D1 — Create a team: Put together a cross-functional team consisting of a core group plus a selection of subject matter experts (

SMEs

). Be sure to provide everything the team will need to be successful, including any training needed to properly execute the process.

D2 — Define and describe the problem: Using relevant data, describe the problem in as detail as possible. Be sure to focus on your problem at this point, not your solution.
D3 — Contain the problem: Protect your customer by creating containment actions to prevent any further negative impact to them.
D4 — Identify, describe, and verify root causes: You can use a multitude of tools such as the 5 Whys, fishbone diagrams,

brainstorming

, and others to identify potential root causes. Use data to validate your root causes.

D5 — Choose corrective actions: Select the most appropriate actions to resolve and eliminate the root causes of your problem. 
D6 — Implement and validate your corrective actions: Implement your recommended solutions and corrective actions, and continue to monitor to assure yourself that they actually solved your problem.
D7 — Take preventative measures: Revise your systems to proactively try to prevent these and similar problems from arising in the future.
D8 — Congratulate your team: Communicate the work of the team and celebrate their efforts.
3 benefits of the 8D process 
It goes without saying that removing problems, improving your process, and preventing future problems will provide many benefits to your organization. Here are a few.
1. Simple and effective 
The 8D process has been compared to the PDCA model. Like PDCA, 8D is structured, organized, and simple in concept. 
2. Drives you to the root cause 
By following the sequential steps, this process should lead you to the elimination of your problem and prevent it from arising again. 
3. Team approach 
The use of a cross-functional team composed of a core group of people working in the problem area as well as subject matter experts contributing on an as needed basis will give you the synergy of combined knowledge and experience that should lead you to a solution. 
Why is the 8D process important to understand? 
While simple in concept, there are a number of things you should understand that will make this process both effective and efficient.
Elimination of the root cause
If you understand and follow the 8D steps, you will be able to eliminate — or at least mitigate — the negative impact of your problem.
Discipline 
The 8D steps are sequential and build on each other. If you have the discipline to stay on track, you will optimize the use of the 8D process. 
Problem-solving tools 
8D is a process and methodology. You will need to understand the purpose of each step so you can apply the proper problem-solving tools in each step.  
An industry example of 8D
A consumer product company located in Mexico City was experiencing an increase in its delivery trucks returning without having made product deliveries to its customers. There did not seem to be an obvious reason or solution, so the president of the company chartered a team to look into the problem. He assigned the company's Lean Six Sigma Master Black Belt to put together and facilitate a team and chose to use the 8D problem-solving methodology.
He followed the process by first having a planning and preparation meeting to lay out the plan for analyzing the problem. He suggested that some of the delivery supervisors go out into the field to see if they can observe any unusual conditions. They also collected some data and recorded their observations.
A vigorous brainstorming session ensued in which the team listed all the possible reasons the problem was occuring. These potential root causes were validated by the data that was collected and the observations of the supervisors. They discovered the trucks were coming back without delivering all of the product because the customers didn't have enough money to pay for the product. These were very small customers who had to pay cash on delivery.
The question then became: Why didn't they have enough money? The next root cause was that the trucks were arriving later in the day, after the customer had already paid for most of their other deliveries and thus had no money left. Why were the trucks arriving so late? Because they got stuck in traffic because they left the yard too late. Why were they leaving so late? Because they were loading the trucks and doing the paperwork in the morning.
Eventually, the team arrived at a solution that had the trucks loaded, prepped, and ready to go when the drivers arrived early in the morning. The result was a dramatic reduction in returned goods and a significant increase in cash flow. The president was confident that the use of the 8D process got them to the right solution quickly and efficiently.
3 best practices when thinking about the 8D process
Like most of the other problem-solving approaches, there are some recommended practices that will help you and your team be successful. Here are a few that will help you stay on track. 
1. Pick the best team that you can 
Don't seek volunteers, but hand-select the best team members that are available. It will be their knowledge and expertise that will make the team successful. Likewise for the team facilitator or leader.
2. Take your time 
Don't rush to solutions or what you think is the root cause of your problem. Thoroughly explore your problem so that the solutions that you eventually come up with will resolve the problem and prevent future occurrences. Think creatively.
3. Be specific about what your problem is
Use data to help you understand your problem. Don't just rely on anecdotal stories or assumptions to decide the root cause of your problem.
Frequently Asked Questions (FAQ) about 8D
1. When should I use the 8D process?
Use this process when you're trying to solve for safety or regulatory issues, increasing customer complaints, warranty costs (which indicate greater-than-expected failure rates), internal rejects, waste, scrap, and poor performance or test results.
2. Can the 8D process be used in non-manufacturing processes?
Yes. While the 8D process was developed in the manufacturing function of Ford Motor Company, it can just as easily be applied in any type of process or function where you are experiencing problems.
3. What is the difference between the 8D and 5D process? 
For a less complex problem, you may decide to use a 5D process. This simplified process will have you form a team, identify your problem, implement containment actions, identify the root cause, and implement corrective actions to eliminate the problem.
So, what is the 8D process? 
The 8D process, also known as the Eight Disciplines of Problem Solving, is a method developed at Ford Motor Company used to resolve problems. It is focused on product and process improvement. 
The purpose of 8D is to identify, correct, and eliminate recurring problems. It establishes a permanent corrective action based on a problem analysis and determination of the root causes. Although it was originally comprised of eight stages, or "disciplines," it was later revised to nine to include a planning and preparation stage.