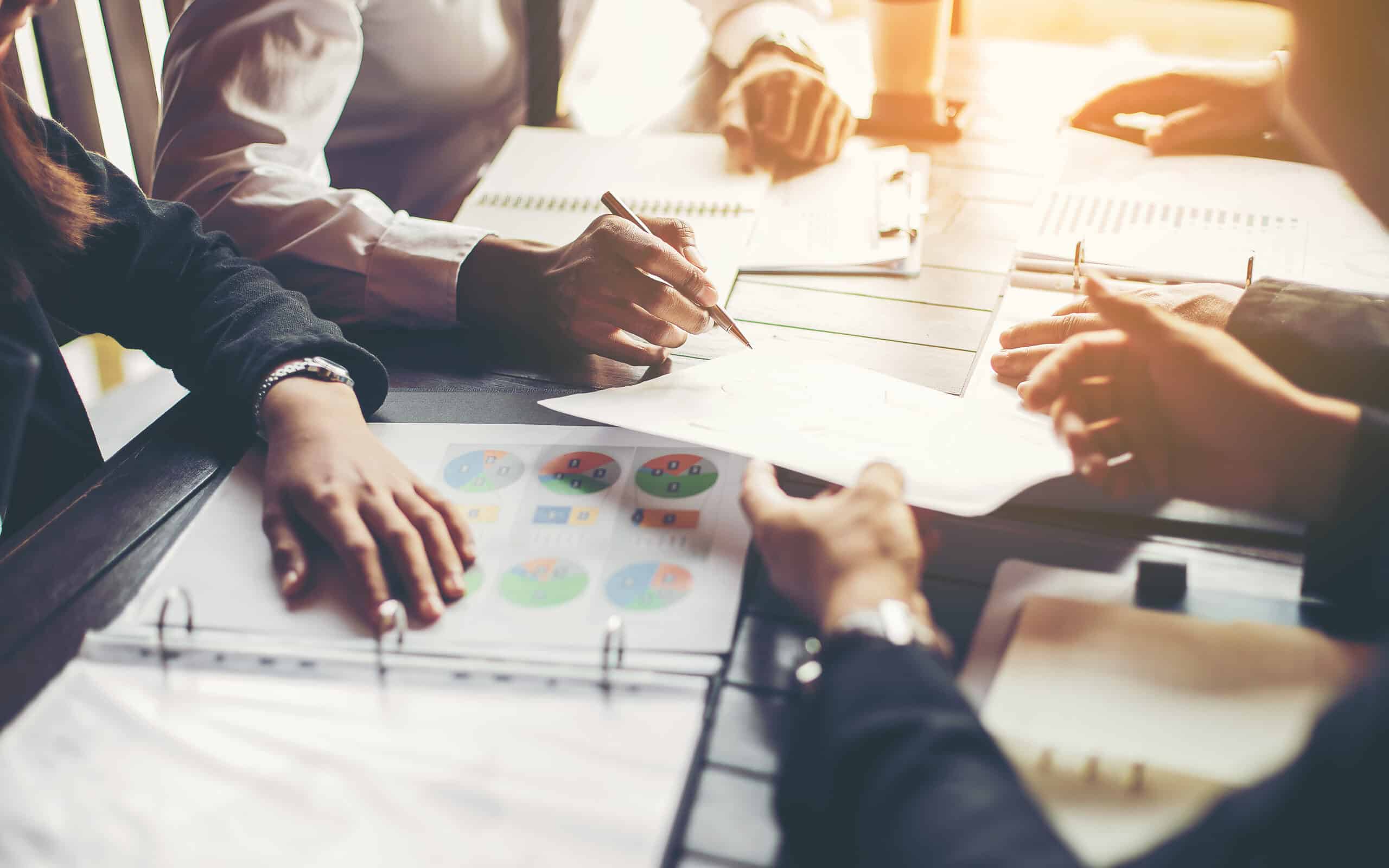 ISO 9000 is a series of standards, developed and published by the International Organization for Standardization (ISO). It defines, establishes, and maintains an effective quality management system for manufacturing and service industries.
Overview: What is the ISO 9000 series? 
ISO 9000 is a series of individual standards. The core standards contained within the series are:
ISO 9000 (2015). Provides information on quality management system fundamentals and vocabulary.

ISO 9001 (2015). Outlines the requirements for a quality management system

ISO 9004 (2018). Gives guidance on how to achieve sustained success in quality management.

ISO 19011 (2018). Provides guidelines for auditing management systems.
ISO 9000 is the name of an individual standard within the ISO 9000 series of standards. The ISO 9000 individual standard covers the fundamental vocabulary, concepts and principles for the entire 9000 series. It covers the basics of quality management as described by ISO and introduces the ISO's seven quality management guidelines. 
The ISO 9001 is a standard within the ISO 9000 series. It covers the requirements an organization must meet to be certified as compliant. It defines what a company can do to provide a product or service that consistently meets customer expectations and any regulatory requirements that apply. 
It provides processes for the improvement of your quality management system. ISO 9001 requires organizations to conduct internal audits. It is the only standard in the 9000 series that organizations can get certified for. Certification is done by third-party auditors.
The graphic below shows the 7 quality management principles of ISO 9000: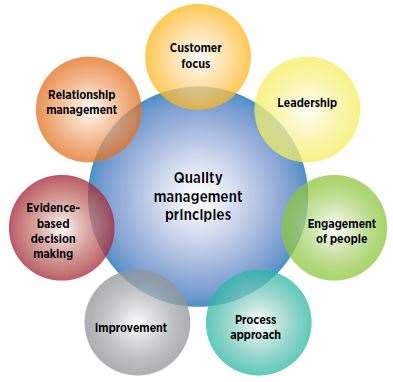 ISO 9000 Quality Management Principles
Here is some detail on the 7 quality management principles that you need to comply with to be certified:
Customer focus

Understand the needs of existing and future customers

Align organizational objectives with customer needs and expectations

Meet customer requirements

Measure customer satisfaction

Manage customer relationships

Aim to exceed customer expectations

Leadership

Establish a vision and direction for the organization

Set challenging goals

Model organizational values

Establish trust

Equip and empower employees

Recognize employee contributions

Engagement of people

Ensure that people's abilities are used and valued

Make people accountable

Enable participation in continual improvement

Evaluate individual performance

Enable learning and knowledge sharing

Enable open discussion of problems and constraints

Process approach

Manage activities as processes

Measure the capability of activities

Identify linkages between activities

Prioritize improvement opportunities

Deploy resources effectively

Improvement

Improve organizational performance and capabilities

Align improvement activities

Empower people to make improvements

Measure improvement consistently

Celebrate improvements

Evidence-based decision making

Ensure the accessibility of accurate and reliable data

Use appropriate methods to analyze data

Make decisions based on analysis

Balance data analysis with practical experience

Relationship management

Identify and select suppliers to manage costs, optimize resources, and create value

Establish relationships considering both the short and long term

Share expertise, resources, information, and plans with partners

Collaborate on improvement and development activities

Recognize supplier successes
3 benefits of the ISO 9000 series 
There are many benefits for your organization to implement the ISO 9000 series of standards. Here are a few.
1. Higher perceived quality of customer product and service
Being certified in the ISO 9000 standards will demonstrate to your customers that you have an effective and certified quality management system designed to deliver high quality products and services. 
2. Greater quality awareness
To become a certified ISO 9000 organization requires the involvement of everyone in the organization. This will raise awareness of the importance of quality to all your employees.
3. Better documentation 
The documentation of what you do is a key element of being certified in the ISO 9000 series of standards. One of the phrases used in reference to ISO 9000 is say what you do and do what you say. Properly documenting what you are doing will provide a consistent approach throughout your organization.
Why is the ISO 9000 series important to understand? 
It is important that you understand the costs and benefits of seeking ISO 9000 certification. Here are a few specifics to help guide you in making the decision to pursue certification or not.
Following the standards can give your organization a competitive advantage over non certified competitors.
Your organization can use the ISO certification as part of your branding which may make your organization a more attractive business partner than your competitors.
Following the guidelines can reduce the cost of production because the standards and controls put in place cut down on costly and time-consuming mistakes.
The ISO 9000 standards are designed to help an organization run smoother, reduce costs and improve processes. 
The ISO 9000 standards apply to all types of organizations. 
The value of ISO is its ability to be applied across all types of organizations regardless of industry or size. 
There is a significant cost to getting certified in the ISO 9000 series of standards 
The preparation and auditing associated with being certified in ISO 9000 is not inexpensive. There is time needed for the preparation and completion of the documentation. Consultants are often used to help an organization prepare for the audits. But a successful outcome will provide an attractive payback and a good return on your investment.
An industry example of the ISO 9000 series
The senior leadership of a large manufacturing company decided to seek an ISO 9001 certification to formalize its current informal quality management system and to set a higher bar for its competitors. After assigning a Vice President to lead the project a consultant was hired to help guide the process. This is what they did:
The first step was to create and document all procedures in a quality manual to satisfy each of the standard requirements. The manual described the quality policy statement, organization, responsibilities, and policies for each element of the organization. 
The second step was to document all system procedures. This described the purpose and scope of an activity including what would be done, by who, when, where, and how. 
The third step included identifying the word instructions, specific procedures, forms, records, inspections, test plans and quality plans. 
A third-party assessment was performed by an accredited ISO 9000 independent third-party registrar. The focus of the onsite review was to evaluate the company's documented procedures. The ISO 9000 goal is not to tell you how to do your business, but to ensure that a consistent and well-documented process is in place.
The registration process took two years to complete and cost $25,000 for the independent registrar. In addition, there were additional consulting costs. The ISO certification is valid for three years and can be renewed. Obviously, the time and effort incurred during the initial certification process would be reduced during the renewal stage. 
3 best practices when thinking about the ISO 9000 series 
Here are a few tips for effectively seeking ISO 9000 certification. 
1. Assign a senior leader to champion to drive the certification process
There will be a need for time and money resources. A senior leader in the organization will be needed to push the project forward and remove any barriers. 
2. Engage and communicate with others in the organization 
People may resist if they don't fully understand the process or purpose of the ISO project. Communicate often and be transparent about the reasons for seeking certification.
3. Be sure your senior leadership fully understands the reason you are seeking certification and is supportive of the process 
Getting ISO 9000 certified will require the expenditure of time and money. Be sure the organization is doing it for the right reasons and the senior leadership team is fully committed to the process.
Frequently Asked Questions (FAQ) about the ISO 9000 series
What is the difference between ISO 9000 and ISO 9001?
ISO 9000 is a series of quality management standards while ISO 9001 is a specific standard within that series.
What is the
basic
purpose of the ISO 9000 series of standards?
The series aims to implement and maintain a quality management system that can increase productivity and minimize costs within an organization while fulfilling regulatory requirements and ensuring customer satisfaction.
What are some of the benefits of being ISO 9000 certified?
ISO certification serves as a sign of reliability and improves brand image. It helps in gaining customer trust.

The series of standards encourages continuous improvement thinking, which enables organizations to address issues before they arise and impact customers.

The standards help organizations save time through the efficient management of resources.

Employees have a clear idea regarding their roles and responsibilities. This improves job satisfaction.

Employees feel more responsible for their jobs owing to accountability and process ownership. As a result, process quality improves.
Summary
The ISO 9000 series of standards lays out the principles, best practices, and guidelines for quality management systems. It leads to improved documentation of organizational processes, making the production process more efficient, reducing wastage, and minimizing costs. The standards are not specific to any industry and can apply to organizations regardless of their size.