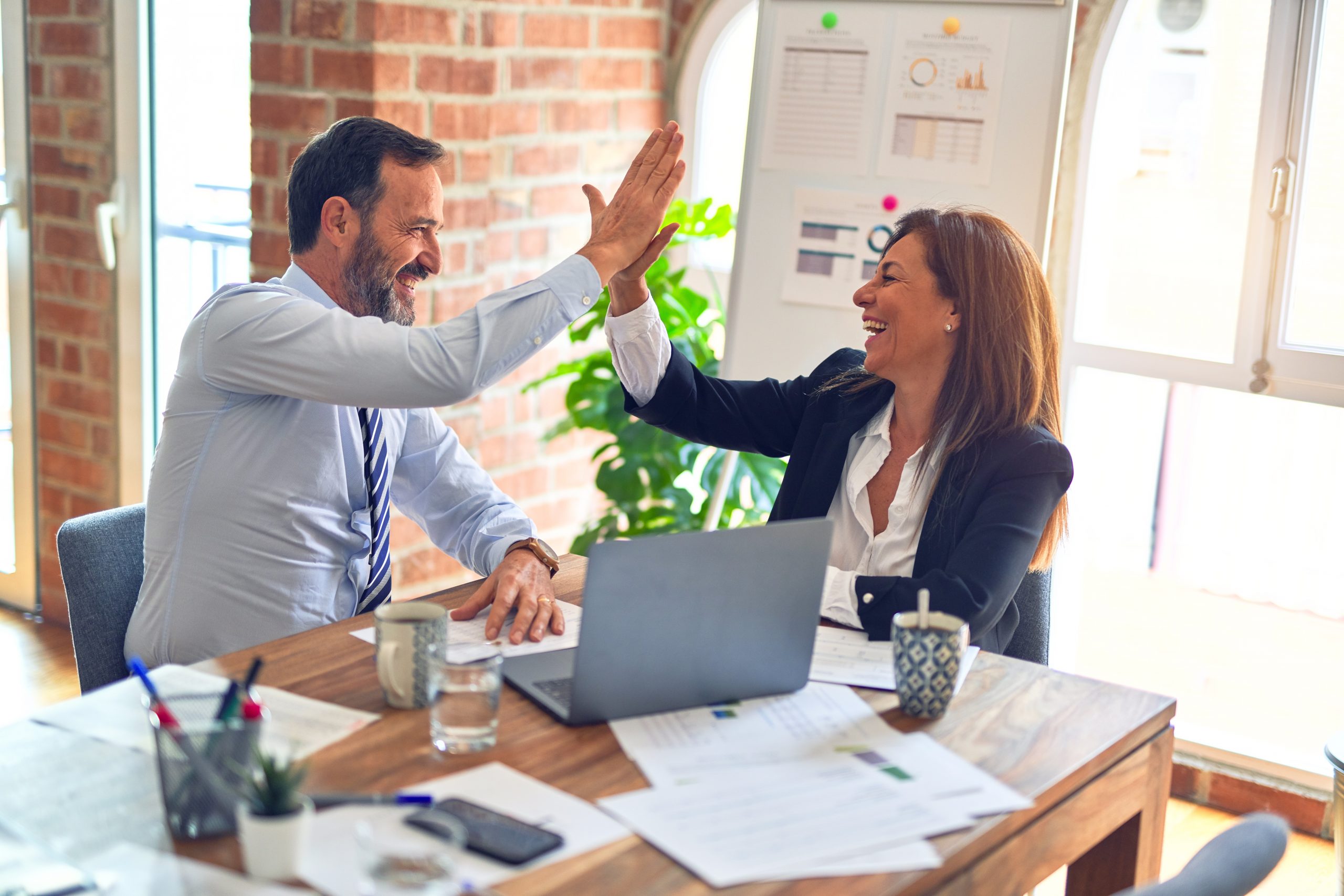 The Harada method helps individuals achieve self-reliance that in turn facilitates a company's process improvement journey. Part One provides an overview of the method and its genesis. Part Two presents five templates to use to plan a goal, measure the goal's progress and assess success. An example helps illustrate their practical use.
---
As described in Part One of this article, the Harada method's focus is self-reliance. Success of any type – personal or professional – cannot be achieved unless the individual makes an effort to attain it. Individuals must master the skill they are working on, whether that skill is data entry or complicated machinery work. Once the skill is mastered, the individual can improve their use of, with or for the skill as well as ensure that it is performed consistently.
These steps can be achieved through the application of five "forms" or templates. By following the steps in these forms, individuals are able to assess their abilities, select long-term goals and achieve self-reliance. That individual success can be leveraged into professional success and support a Lean environment, particularly by focusing on the eighth waste – skills and talent.
The templates range from simple to detailed. The most important note to remember is that individuals must fill out these forms (i.e., do the work) themselves. (A mentor or coach can help guide the individual.)
33 Questions for Self-reliance
There are 33 questions that a person answers that gauge how self reliant the individual is. Against each of these questions (i.e., descriptors), individuals should rate themselves on a scale of 1 to 10, with "1" as "not an accurate description" and "10" as "the most accurate description" of themselves. This is a tool for self-assessment only – there is no score that an individual is attempting to achieve. By assessing themselves according to these descriptors, the individual becomes more self-aware and is able to better understand where they need to focus their time and energies. The ultimate goal with this form is to reach a "10" with each descriptor – then individuals are 100 percent confident in their self-reliance.
Accountable
Adaptable
Authentic
Brave
Capable
Caring
Confident
Creative
Determined
Ethical
Flexible
Highly skilled
Honest
Imaginative
Independent
Initiative
Innovative
Inspired – love to work
Inquisitive
Empowered
Knowledgeable
Motivated
Organized
Personable
Prepared
Realistic
Responsible
Self managed
Strategic
Strong willed
Supportive
Trustworthy
Visionary
Long-term Goal Form
The long-term goal form is the core of the Harada method. After assessing their skills with the 33 questions, individuals know what areas in which to improve. The next step is to analyze their goals and purposes with the long-term goal form. The steps that are followed are noted in Figure 1. The long-term goal form is used to document these goals; without documentation, commitment is difficult. By working backward from the long-term goal, individuals will also be able to identify guides and mentors to assist them on their improvement journey.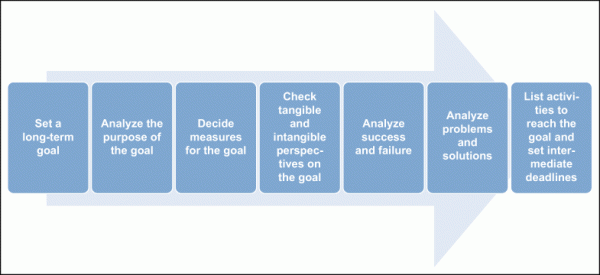 Figure 2 is a blank version of the long-term goal form. To begin filling out the form, individuals should first identify their goal – consider the purpose behind the goal and its tangible and intangible aspects. The purpose should be a combination of mental capabilities, skill level, lifestyle and health. (For example, if Andrea's goal is to climb Mt. Everest by year's end, it may not be achievable if she does not have the skills, lifestyle and health needed to support that skill and achieve the goal in such a short timeframe.) Routine activities will be defined on this form that will help individuals reach their final goals.
To select the long-term goal, follow these steps:
Start by identifying a skill that you want to master.
Identify at least ten different variations to that goal. Ask your family, friends and colleagues for their suggestions.
Analyze the pros and cons of each variation. Based on that analysis, pick one goal and set a timeframe to achieve it. The timeframe can be as long as several years depending on what you want to achieve. But selecting that goal date is important so that you can measure progress against that date.
Split this goal into sub-steps and set dates for these intermediate goals. Set incremental due dates for these goals.
Split these sub-steps into even smaller goals with shorter timeframes.
Figure 2: Harada Method Long-term Goal Sheet (Click to Enlarge)
Three more forms help round out the steps to follow the Harada method, to achieve a goal and become self reliant.
Open Window 64 Chart
This form takes the goal sheet to the next level. It is a specific framework that helps individuals develop 64 mini-tasks and routines to support the goal defined on the long-term goal sheet.
This chart consists of 81 boxes. At the center is the ultimate goal; it is surrounded by eight smaller tasks that the indiviual believes are required to support the central goal. Next, for each of those eight smaller tasks, identify eight even smaller goals. Then there will be 64 steps that needs to be followed and finished in order to achieve the ultimate goal. Those 64 steps form the name of this template – the open window 64 chart. (In the example below, Figure 5 illustrates the first nine windows of this chart.)
Routine Check Sheet
This is a daily checklist to help strengthen the individual's habits; it is developed based on the 64 tasks that have been identified. A daily check list should not include more than 10 tasks – if more than that, completing them may be a challenge. The purpose of the routine check sheet is to facilitate the goal's achievement – not to stop progress at the start. (In the example below, Table 1 illustrates the routine check sheet.)
Daily Diary
The daily diary is similar to a typical to-do list. It helps plan individuals' days to help meet the ultimate goal. At the end of each day, the individual can see what was accomplished and what still needs work. In essence, the daily diary is a tool to help keep track of the routine check sheet that was already created. (In the example below, Table 2 illustrates the daily diary.)
As shown in Figure 3, these forms are not mutually exclusive but interconnected.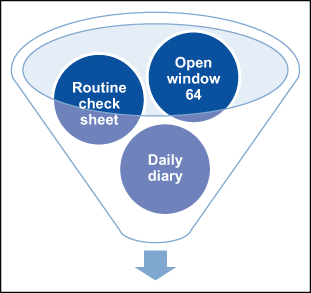 By working the mini-steps daily, individuals can achieve their master goals. Achieving the goal is just one result of following the Harada method – individuals are also able to learn their strengths and weaknesses. This makes individuals better people and gives them the confidence to be able to achieve the goals they set for themselves.
The Harada method is not complicated, but it requires dedication, effort and time.
An Example: John Follows the Harada Method
Regardless of their level of difficulty, goals can be achieved by following the Harada method. The following example looks at a goal set by an information technology (IT) services employee, John. He is a programmer and codes programs. The mission of his company is to ensure that its customers receive quality code in the fastest time possible.
John was given feedback that his code quality is not up to the mark (i.e., there are more than five defects per 1,000 lines of code). His productivity is also not at the level it should be. After completing the 33 questions, John knows that he needs to improve four descriptors: 1) knowledge, 2) skilled work, 3) time management and 4) independence. With these issues in mind, he developed a long-term goal: To be the fastest, most-accurate programmer in the company. John discussed this goal with his team leader who has agreed this is a good goal and has agreed to help and guide John in his endeavour.
Next, John completes the long-term goal sheet as shown in Figure 4.
Figure 4: Harada Method Long-term Goal Sheet for John (Click to Enlarge)
Based on his long-term goal sheet, John created an open window 64 chart. The main nine cells are shown in Figure 5.

John then identified five tasks for his routine check sheet show in Table 1.
Table 1: Routine Check Sheet for John

Date

Task

May 1

May 2

May 3

May 4

May 5

May 6

May 7

Study a new Java technique

1

1

1

0

0

1

1

Meditate

1

1

1

1

1

1

1

Exercises for the back

1

1

1

1

1

1

1

Get up at 0600

1

0

0

0

0

0

0

Reach office by 0830

1

1

1

0

0

0

1
John uses a "1" to denote that he performed the activity on the given date; "0" denotes that he did not complete the activity. Individuals should use any marks that work best for them, such as checkmarks. He also created a daily diary to support this check sheet. A sample day is shown in Table 2.
Table 2: Daily Diary Example for John

May 2

Activity

0000 – 0100

Slept

0100 – 0200

Slept

0200 – 0300

Slept

0300 – 0400

Slept

0400 – 0500

Slept

0500 – 0600

Slept

0600 – 0700

Woke up, morning routine, meditation

0700 – 0800

Exercised, ate breakfast

0800 – 0900

Travel to office – reached office at 0830

0900 –  1000

Coding – assigned by team lead

1000 – 1100

Team meeting

1100 – 1200

Coding – assigned by team lead

1200 – 1300

Tested code – assigned by team lead

1300 – 1400

Lunch break

1400 – 1500

Free time – studied a new Java technique

1500 – 1600

Tea break, studied a new method in Java

1600 – 1700

Read emails, surfed the Internet

1700 – 1800

Prepared for tomorrow

1800 – 1900

Travel to home

1900 – 2000

Reached home

2000 – 2100

Spent time with family

2100 – 2200

Ate dinner

2200 – 2300

Slept

2300 – 2400

Slept
Following this routine, John moved toward his goal. As shown in the check sheet, he was distracted along the way. He had some late nights that led to late mornings that affected his accuracy and productivity. However, with the help of the Harada method, John was able to achieve his goal. He is able to spend more time with his family and his superiors are happy with his performance. His performance appraisal reflected this success – he is being considered for an assignment with a prestigious customer.
Resources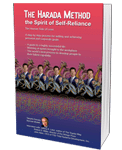 The Harada Method
The Harada Method provides the means for anyone to establish their goals through a systematic approach that everyone can follow. From PCS Press.
"Lean Movement Gets Human Touch with New Harada Method Release," U.S. News University Connection, http://www.businessadministrationinformation.com/news/lean-movement-gets-human-touch-with-new-harada-method-release, published December 12, 2012.
"Finally an Answer to the Human Side of Lean," Marketwire, http://www.marketwire.com/press-release/finally-an-answer-to-the-human-side-of-lean-1738432.htm, published December 17, 2012.
http://pcspress.businesscatalyst.com/takashi-harada
Bodek, Norman and Green, Jeremy. "Zenjidoka, Part 3: Building Excellent People," QualityDigest, http://www.qualitydigest.com/inside/quality-insider-article/zenjidoka-iii-building-excellent-people.html#, published June 29, 2011.
Graban, Mark. "Norm Bodek & The Harada Method – Article and Free Webinar," LeanBlog, http://www.leanblog.org/2011/10/norm-bodek-the-harada-method-article-and-free-webinar/, published October 28, 2011.
Trachilis, George. "Introduction to the Harada Method," YouTube.com, http://www.youtube.com/watch?v=tg9UhtqCmmo, published December 5, 2012.
CaffeinatedPDX. "Harada Method Webinar with Norman Bodek," YouTube.com, http://www.youtube.com/watch?v=gmQ7SnZYllY, published March 15, 2012.
GAManufacturing. "Harada Method Self Reliance Goals," YouTube.com, http://www.youtube.com/watch?v=1iA4AD6anMU, published August 7, 2012.
GAManufacturing. "4 Aspects & Self Analysis," YouTube.com, http://www.youtube.com/watch?v=oEJuFO1oHUU, published August 7, 2012.
---
The Harada method helps individuals achieve self-reliance that in turn facilitates a company's process improvement journey. Part One provides an overview of the method and its genesis. Part Two presents five templates to use to plan a goal, measure the goal's progress and assess success.