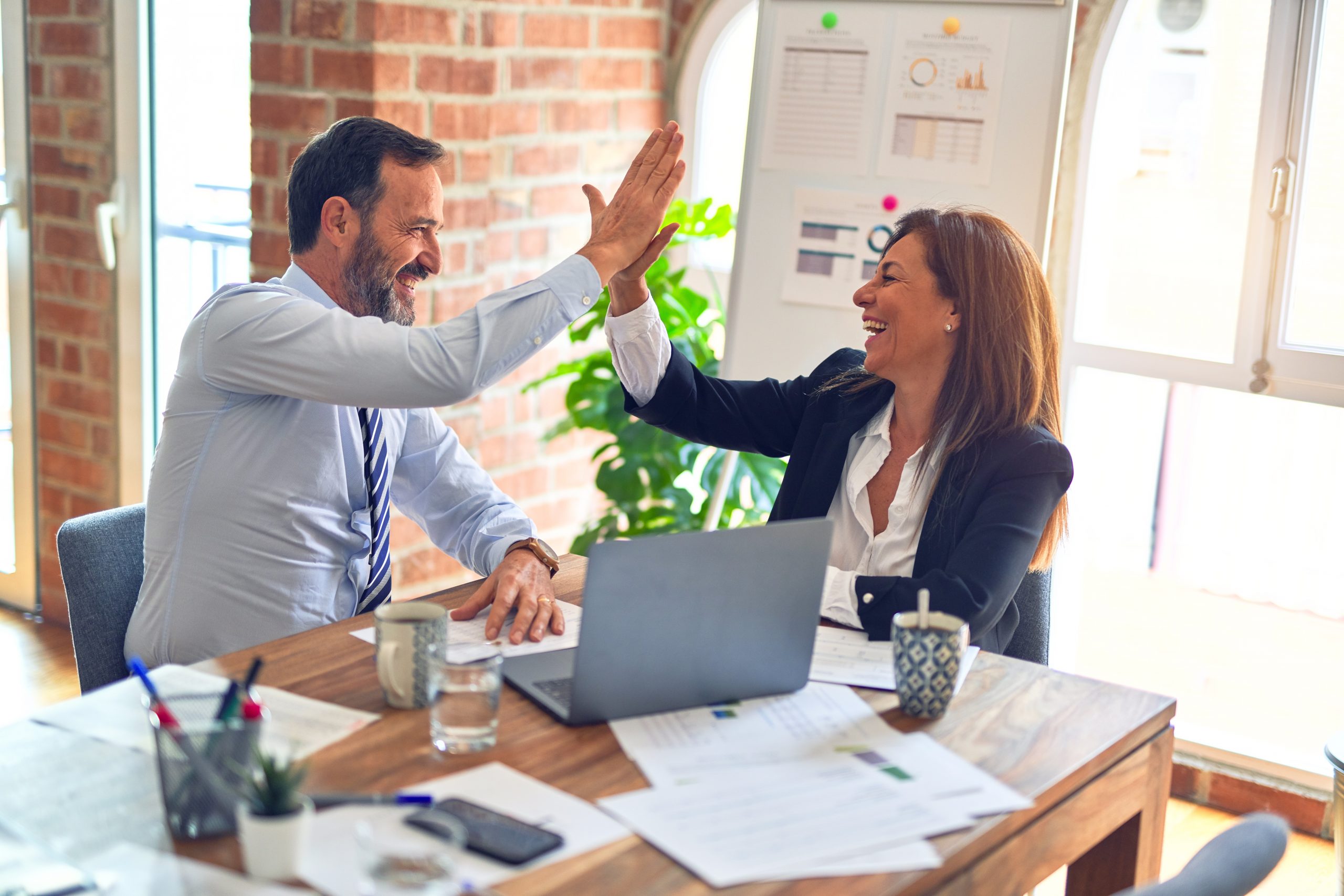 The familiar maxim "A chain is only as strong as its weakest link" has particular import for businesses committed to process improvement. For some companies, forging stronger, more collaborative relationships with suppliers and customers has become a natural, even necessary, part of their improvement efforts.
"Early on, we knew that to create successful value streams, we would need to look at our entire supply chain," said Mark Wallace, who is executive vice president of operations for Pratt Corp., a $67 million company that provides in-store marketing and display materials to retailers. "It was probably within six months of the launch of our Lean initiative that we began involving suppliers in Kaizen events."
Pratt has been working on process improvement with suppliers and customers for more than three years now, and according to Wallace the results have been impressive. "In just one of the projects we did, we went into a customer site to investigate the process we used to set up new displays," he said. "Originally it took five solid days of work. We cut that by 40 percent, which has saved hundreds of thousands of dollars annually."
The Quest for Stability
Robert Martichenko, a consultant with experience in supply chain management and founder of LeanCor LLC, said that companies reaching out to their supply chain are doing so because there is some instability they can't fix on their own.
"More and more, companies involved in Lean and Six Sigma are realizing they can only go so far if they only focus internally," he said. "To get closer and closer to the nirvana of stable, predictable processes, they have to reach out beyond their four walls."
Tim Conrad is the director of supply chain integration for Gates Corp., a subsidiary of Tomkins plc that manufactures hydraulics and power transmission systems. Gates launched a Lean initiative in 2001, and now practices both Lean and Six Sigma internally. Conrad stated the issue this way: "What our suppliers and customers want are the same things that we at Gates want – predictability and stability. So we're using collaboration with suppliers and customers to create that stability across our entire supply chain."
The two biggest factors that can prevent a company from achieving internal stability, Martichenko said, are the contacts with a customer in the form of variation of demand, and the contacts with a supplier in the form of fill rates and dependability.
"If your customers don't communicate well with you, then you can't make accurate forecasts for your own operations," Martichenko said. "At the other end, you can end up with too much lead time and too much inventory between you and your supplier, all of which generates non-value-add cost."
How to Get Started
Companies that see the value in a more stable supply chain are finding there is no one-size-fits-all formula for building stronger links in the chain. Each company has to map its own course, specific to its own circumstances. But in general, Martichenko said, the plan must start with making critical decisions relative to which suppliers or customers to target and how to approach those companies.
Picking Partners
Martichenko, Wallace and Conrad point to four factors that influence which companies to work with:
1. How important is each supplier or customer to your business and vice versa? Obviously, you're going to have more sway over a company for which you represent a large percentage of its business or for which you are a unique supplier. While you also want to have strong relationships with those companies you rely heavily on, that may or may not be possible depending on how important you are to them. As Conrad pointed out, "Gates is just a gnat in the universe of our 10 biggest suppliers. We have to be pragmatic in the kinds of response we can expect from them."
2. How much are problems with a supplier or customer affecting your business? A number of data tools can help determine the impact. If your focus is on suppliers, for example, Martichenko advises doing a scatter plot of purchase volume versus the suppliers' fill rates to identify the worst performers. (Fill rate is the percentage of ordered items that are delivered on time. If the order is for 1,000 and 900 are delivered, that's a 90 percent fill rate.) "Your priority would be to start with suppliers with the highest order volume and worst fill rates," Martichenko said. "They are extremely important because you buy a lot from them but their performance is unsatisfactory."
3. How willing is the supplier or customer to collaborate? If you try to force a supplier or customer to use Lean or Six Sigma, the relationship will be doomed to failure, said Martichenko. Focus your efforts on those companies that are receptive to new ideas and new forms of interaction.
4. What is your capacity to support collaborative relationships? Supporting stronger supplier and customer relationships takes time and special expertise in Lean or Six Sigma. The number of collaborations you can conduct effectively depends in large part on the number and skills of people dedicated to building those relationships.
The Initial Approach
Once you have decided which companies to target, the next step is to present your case for collaboration in the best possible way. According to Martichenko, these two factors affect how to approach suppliers or customers:
1. Does the company trust you? "One of the biggest barriers with suppliers, for example, will be the perception that all you're doing is coming at them for a price reduction," Martichenko said. "Your supplier or customer has to know that your goal is to reduce waste, not to take a chip out of their profitability."
2. To what extent has the company embraced Lean or Six Sigma? It is not uncommon for suppliers to reluctantly go along with joint Lean or Six Sigma projects because they want to keep your business, Martichenko said. "That reluctance isn't entirely their fault. If they have had no exposure to Lean or Six Sigma, they just won't see the value of creating more velocity in the supply chain. All they see is that they have to do more bills of lading, load more trucks and do more administrative work." That's why the first step in many collaborative efforts, he explained, has to be educating suppliers or customers about what it is you're trying to achieve and why.
Martichenko emphasized, "If any collaborative Lean Six Sigma effort is going to work, there has to be something in it for both parties. No question. And both parties have to appreciate what that 'something' is."
Experiences at both Pratt and Gates illustrate how the above factors play out in real life.
Pratt: Smart Choices
Wallace admits that Pratt's initial efforts at building supplier relationships were not very successful. In mid-2007, the company hosted a vendor conference to which 45 companies were invited. "All but one came," Wallace said, adding that most of the people had no knowledge of Lean and were quite apprehensive at first. "We told them we wanted to work with them to reduce waste and take out costs. We made it explicit that we were not after reducing their margin."
The energy and participation at the conference were tremendous, Wallace said; it seemed a successful day. But afterward, only one company came back and showed any interest in actually working through issues with Pratt.
Though at first disappointed with the response, Pratt came to see it as a blessing in disguise. "As we began working with this supplier, we saw just how much time and energy it took," Wallace explained, "…and we realized that with only three or four people who could lead Kaizens, we didn't have the infrastructure to support partnerships with all 45 of our main suppliers. Plus we're trying to establish stronger relationships with five of our 12 biggest customers."
Wallace isn't sure yet just how many resources would be needed to fully support stronger partnerships across the board, but Pratt initiated a program to create more internal Lean experts.
The Right Stuff
To determine conclusively which suppliers made up the biggest part of its business, Pratt performed a Pareto analysis and saw that 85 percent of its spending was with just eight suppliers of the 45 suppliers it had initially contacted. "Now, we're focusing on just three of those companies," Wallace said. Why only three? In part, because some of the eight companies were not open to collaboration.
"Pratt is very small compared with our largest supplier. We're just a blip on their screen," he explained. "Culturally that company is not embracing Six Sigma or Lean, and they weren't interested in working with us."
Contrast that with what happened when Pratt approached its No. 2 supplier. "With this company, the entry was simply sitting down and listening to their ideas to improve our company," Wallace said. Within weeks of that meeting, one idea was implemented and is saving Pratt $10,000 per month.
Another one of Pratt's top suppliers – a small metal fabrication company – also has been open to collaboration. Pratt is among the fabricator's top three customers.
"This vendor has always been on time, so we consider them a very good supplier from that standpoint," Wallace said. "But they aren't very good in terms of generating new ideas or reducing lead time."
A senior group from Pratt went to the metal fabricator to meet with its executives. "At first, they were very defensive," Wallace said. "They didn't want to talk, obviously didn't trust us."
The executives knew nothing about Lean or Six Sigma, so Pratt's team opened the dialogue with a very simple question: "What problems do you see in our operations?" The executives began rattling off problem after problem, explaining what Pratt could do to save money. When asked why they hadn't mentioned any of these things before, they said, "Because you're the customer."
Afterward, Pratt began holding more-structured Kaizen events with the supplier, including a process mapping exercise. The two companies are now collaborating on inventory and lead time reduction efforts.
Interestingly, Pratt's customers have proven more open to collaboration than its suppliers. "Because of the economy, many of our customer companies are asking their suppliers how they can help them save money," Wallace said. "We tell them that we can help run some Kaizen events that will reduce costs, which is exactly what they are looking for."
Gates: Addressing Inventory Concerns
Part of the marketing strategy at Gates Corp., Conrad said, is that the Denver-based company produces "a belt for everything" – a claim made credible by its catalog of 33,000 SKUs. "With that diverse of a product line, we don't want to keep a lot of inventory around," he said. So about three years ago, Gates began reaching out to suppliers to help reduce inventory and trim cycle time.
The Accidental Collaborator
Conrad described Gates' first venture into supplier relationship building as an "accidental collaboration." The move was driven by the need to reduce the lead time on a key component – the cardboard sleeves used in packaging. "Each [sleeve] is custom printed with product-specific information, and [they] were our longest lead time items," Conrad said.
To help reduce that lead time, Gates took the first step of inviting the supplier's leadership team to come and observe operations. "We kept it very low-key," Conrad said, "and simply went to them and said that we wanted them to understand our manufacturing processes. During the on-site visit, they saw that we fit 48 belts on a drum, which explained why we didn't want to have to purchase the cardboard sleeves in batches of 100."
Eventually, Gates' representatives also visited the supplier's site, and saw that producing sleeves in exact quantities of 48 would be hard for the supplier. "We ended up…compromising on standard order quantities," Conrad said. "They don't match our production batch sizes exactly, but we don't have nearly the excess inventory sitting around that we used to have."
Leveling out the batch sizes was just one step Gates took to improve lead time. Since the first collaborative efforts with that supplier, Gates has improved communications about demand and has established desired lead times. "What this does is improve predictability," said Conrad, which means their processes are more stable and they have overall shorter lead times.
Gates has begun expanding its cooperation efforts to other product lines. "Our decisions depend in part on how advanced our own operations are in Lean and Six Sigma," Conrad said. "Some of our plants are very advanced and others are just beginning. We're not pushing the beginners to try to move out into their supply base. They have to focus on their internal operations first."
Watching for Opportunities
Gates is mobilizing its staff to become part of a problem-solving crusade, armed with Lean and Six Sigma tools. "We've told our purchasing people to pay attention to suppliers that are struggling to reduce lot sizes or optimize inventory or frequency of delivery," Conrad explained. "Those are opportunities for us to approach the company and offer a service of having our Lean experts help that supplier fix those problems."
That approach is working with the suppliers for which Gates is a large part of their business. "We have some commodity suppliers – Fortune 100-type companies – who, frankly, don't really care if they lose our business because we're such a small part of their picture," Conrad said. "But we're a big player for some of our smaller suppliers, and many of them appreciate it when we offer to go in and help them analyze their processes and improve flow."
Gates also watches for opportunities to collaborate with customers. "We did a joint supply-chain walk-through from one of our retail customers back to our manufacturing operation," Conrad said. "We ended up changing our packaging in a way that lowered costs for our manufacturing and the customer's distribution center – though it did increase costs slightly at our distribution center. But overall, it got the product to the retail store sooner. This type of change would not have been possible without the entire team – the customer, our distribution and manufacturing teams – walking the gemba [or factory floor] together."
Collaboration: the New Synergy
In light of the ever-more-urgent need to cut costs in ways that raise effectiveness and efficiency, the importance of a strong supply chain is even more evident. As Wallace pointed out, "We've had to cut back on our LEAP effort because of the economy, but we will not slow efforts to work with our suppliers to reduce waste. Not too surprisingly, we are accelerating this effort. Working with our suppliers is becoming a more strategic tactic with the toughening economy. The tougher the business environment, the more important it is to work with our 'big 8' suppliers to reduce cost and improve lead time."
Martichenko agreed that the new mantra for business has to be supply chain collaboration. "Only through collaborative efforts can companies identify and address all the forms of waste and variation that are hurting costs," he said.
About the Author: Sue Reynard is a freelance writer and a frequent contributor to iSixSigma Magazine.