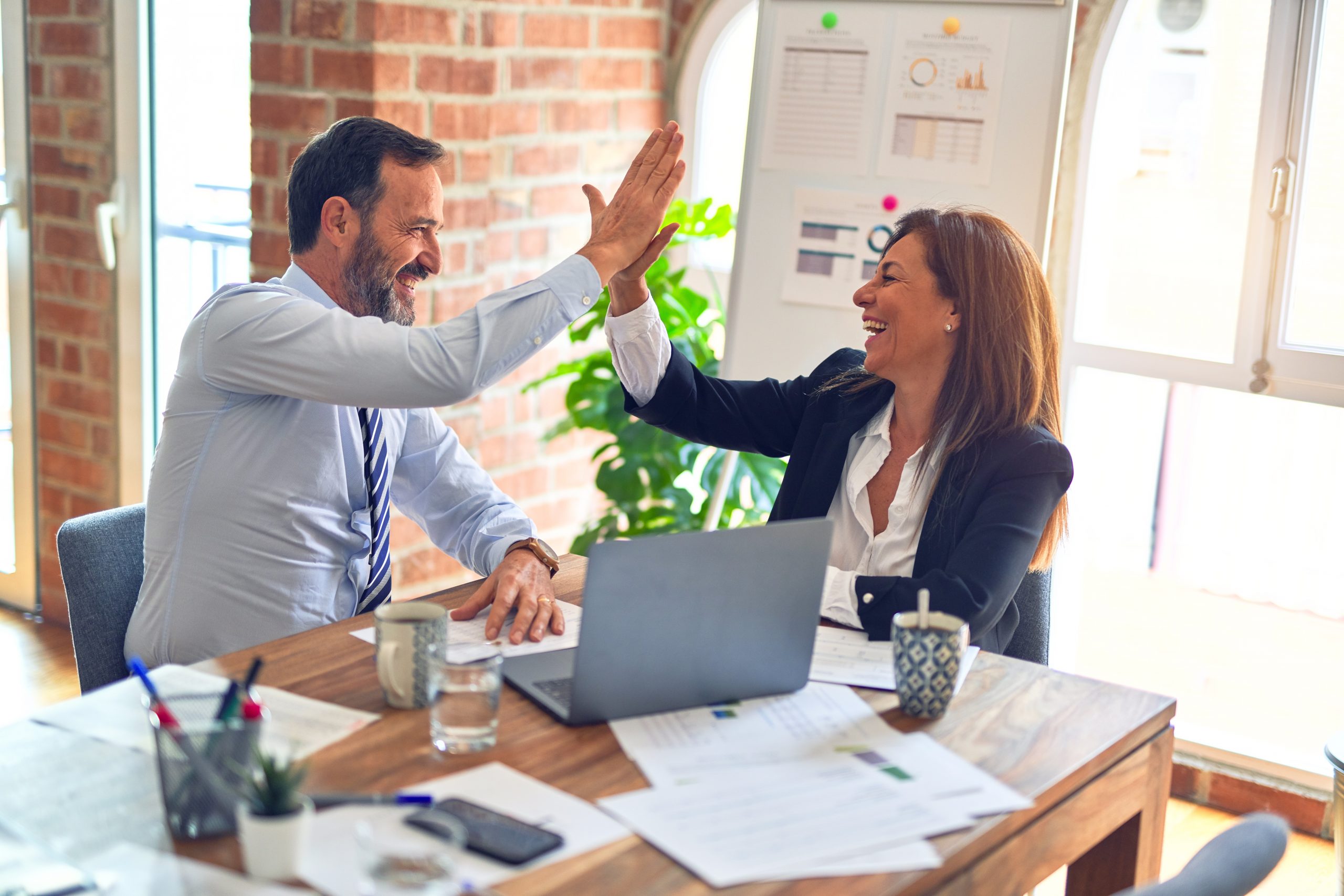 A growing number of healthcare organizations are striving to differentiate themselves by seeking awards and recognition. Hospitals vie for coveted positions on lists of top hospitals from U.S. News and World Report, Modern Healthcare, Solucient and others. Numerous state, regional and national awards are given each year for excellence in specific service lines, patient safety, clinical quality or overall performance.
Obviously every healthcare organization does not win top recognition. But those that compete for such awards, or even just review award requirements or study the winners, are stimulated to make institutional improvements and provide greater satisfaction for their patients, other customers and staff.
One of the most highly prized awards is the Malcolm Baldrige National Quality Award, established by Congress in 1987, with a category for healthcare added in 1999. Envisioned as a "standard of excellence that would help U.S. organizations achieve world-class quality," the award not only recognizes organizations for their achievements, but raises awareness that quality and performance excellence are important as a competitive edge. The Baldrige criteria are now the standard for performance excellence – a framework of seven categories "that any organization can use to improve overall performance."
Benefits from the Baldrige award can be reaped in numerous ways. One of the main purposes of the award is "to pass on information about the recipient's performance excellence strategies that other organizations can tailor for their own needs," the Baldrige web site notes.
In addition, for the last several years, many healthcare organizations have used the Baldrige Award's Health Care Criteria for Performance Excellence (http://baldrige.nist.gov/PDF_files/2004_HealthCare_Criteria.pdf) to help them identify and address issues involved in implementing technology, managing cost, reducing errors, digitizing data and building a competitive edge.
Baldrige Health Care Criteria Core Values and Concepts
The Baldrige Award's Health Care Criteria for Performance Excellence are built upon this set of interrelated core values and concepts found in higher-performing organizations:
Visionary leadership
Patient-focused excellence
Organizational and personal learning
Valuing staff and partners
Agility
Focus on the future
Managing for innovation
Management by fact
Social responsibility and community health
Focus on results and creating value
Systems perspective
While it is an aim in itself for many organizations, the Baldrige Award is in some ways symbolic of a greater goal and a longer journey. There is not one universal path that helps every hospital qualify as a top-rated institution, and the Baldrige program makes it clear that it is not intended to be prescriptive in terms of specific solutions. It does offer excellent guidelines, however, and there are steps that can be taken to help hospitals gain a better understanding of their current strengths and opportunities for improvement. There also are effective strategies to address such opportunities, including methods like Six Sigma and Lean.
Tweaking or Transforming the Organization?
Increasing process capability around specific issues, such as emergency department patient wait time, radiology throughput or billing cycle time, can certainly result in measurable benefits for both patients and providers. Whether they use Six Sigma, TQM, PDCA or other programs, many healthcare organizations are able to point to such projects as evidence of successful improvement initiatives.
The value of such focused efforts cannot be discounted, and they should be part of an overall approach to driving sustainable change. But if the projects are fairly isolated and not causing a positive ripple effect in other areas, then the impact of these steps and the overall results may be somewhat diminished.
To be recognized as being among the very best in any category of health services requires taking another giant step – from fixing individual problems to fundamentally transforming the organization. As stated in the bill which created the Baldrige award, "in order to be successful, quality improvement programs must be management-led and customer-oriented, and this may require fundamental changes in the way companies and agencies do business."
Using Six Sigma to Gain a Systems Perspective
Information on the Baldrige Award program mentions the importance of developing a systems perspective in order to reach higher levels of performance excellence. Since it is a statistical, evidence-based approach, Six Sigma can be an effective strategy in achieving process and quality improvement beyond individual project outcomes.
When implemented as one aspect of organizational transformation, Six Sigma tends to have both physician and leadership appeal – protecting and advancing patient care while reducing process variation and creating a healthier bottom line. Proper selection and scoping of projects, especially in the early phases of implementation, will ensure alignment with strategic planning efforts and chart a course toward meaningful and measurable change.
Adapting methods like Six Sigma, Lean and change management also can give employees a common platform and language for dealing with any challenges they may confront. An enterprise-wide implementation plan – in conjunction with coherent management and leadership strategies – can amplify the effect and help to ensure broad support beginning at the highest levels of the organization.
Toward Performance Excellence: Identifying the Gaps
Even if a healthcare institution feels it will not measure up when compared against others across the nation, the process of applying for an award such as the Baldrige can provide a valuable profile of strengths and weaknesses.
Baldrige Award Judging Criteria & Point Values

Categories & Sub-Categories

Max. Points

1. Leadership
Organizational Leadership
Social Responsibility

120
70
50

2. Strategic Planning
Strategy Development
Strategy Deployment

85
40
45

3. Focus on Patients, Other Customers, Markets
Patient, Other Customer, Market Knowledge
Patient & Other Customer Relationships & Satisfaction

85
40
45

4. Measurement, Analysis, Knowledge Management
Measurement & Analysis of Organizational Performance
Information & Knowledge Management

90
45
45

5. Staff Focus
Work Systems
Staff Learning & Motivation
Staff Well-Being & Satisfaction

85
35
25
25

6. Process Management
Health Care Processes
Support Processes

85
50
35

7. Business Results
Health Care Results
Patient- and Other Customer-Focused Results
Financial & Market Results
Staff & Work System Results
Organizational Effectiveness Results
Governance & Social Responsibility Results

450
75
75
75
75
75
75

Total Points Possible

1,000
The Baldrige criteria focus on two goals: "delivering ever improving value to customers and improving overall organizational performance."
With the seven Baldrige judging criteria in mind (see box to the right), it is helpful for an organization to start with a preliminary assessment of itself. No institution can begin to fill its gaps unless it knows where they currently exist. To that end, healthcare leaders should answer the following questions honestly, perhaps seeking input from a cross-section of management, staff and clinicians:
Has the leadership team embraced and clearly articulated the vision, values and strategic objectives of the organization? Have they been aligned with performance expectations and evaluations?
Is there a solid plan in place to provide ongoing education and development for staff? Is the organization able to correlate such efforts with measurable results?
Based on accepted criteria, is the organization able to identify and promote top performers? Motivate middle performers? Implement corrective action for anyone not meeting minimum standards?
Whatever the method(s) for improving quality, (i.e., PDCA, TQM, Six Sigma, Lean) has the organization's approach been able to achieve and sustain significant results? Has the institution's leadership been able to garner widespread support and make this approach the way the whole organization works, or is it relegated to a single quality or risk management department?
Is the organization's leadership confident that processes have been designed to meet customer requirements (i.e., patients), rather than internal needs?
Can it be demonstrated through control charts, dashboards, balanced scorecards or other means that the organization's process improvement initiatives are yielding long-term results? In a related question, is the senior leadership team able to monitor progress at a high level and ensure balance between cost, productivity, satisfaction and quality goals?
Do the individuals in the organization feel inspired and empowered to contribute innovative solutions to common challenges?
Does the organization have a clear and consistent operating calendar to support strategic planning efforts? Are the specific mechanisms and milestones understood and accepted throughout the organization?
Is there a common approach to problem-solving and a sense of teamwork across the organization, or are traditional "silos" and/or hierarchies stifling communication and creativity?
Does improvement methodology rely on valid data? Has it been gauged to determine whether there are any issues with the data collection methods that would affect the accuracy of the information?
Does the organization have a reliable process in place to track medical errors and near-misses? Is the institution able to demonstrate a reduction in such errors through ongoing statistical process control?
Has the organization conducted a strategic assessment of its technology to determine whether it has the right mix to meet patient needs and establish a competitive edge in the market?
If the organization has already determined that it has the right technologies in place, is it optimizing its investments in equipment and IT solutions? Have processes and workflow been changed to maximize the use of new technologies, or are departments still struggling with capacity, utilization and cost management issues despite the new equipment?
What is the current staffing model, and are there shortages in key areas? Does the organization have effective strategies in place for employee recruitment and retention?
Are patient and employee satisfaction scores high?
Has a true "performance" culture been developed within the organization, based on shared values, accountability and measurable results?
If these questions do not uncover any opportunities for improvement in the way an organization is currently operating, then the institution is probably already among the best at its chosen mission. And it has the right framework in place to pursue national recognition in the form of a Baldrige Award. If answers to these questions have revealed gaps, then an organization can begin to fill the gaps by adapting the right tools, techniques and strategies to achieve its mission and goals.
The table below provides examples of common gaps in healthcare organizations and potential solutions for closing them. It is by no means an outline of every possible issue and solution.
| | |
| --- | --- |
| Common Gaps | Potential Solutions |
| Process variation and errors (either excessive, or lack of knowledge and information to adequately measure) | Six Sigma – DMAIC to improve existing processes and DFSS to create new processes where necessary |
| Capacity constraints driven by systemic bottlenecks and inefficiencies | Lean techniques such as value stream mapping and Six Sigma projects as indicated by the significance of the data and complexity of the problem |
| Misaligned incentives and inadequate or unclear performance evaluation processes | Management and leadership systems designed to link organizational objectives with strategic planning and performance |
| Quality programs that are either ineffective or not connected to the mission and vision | Six Sigma as part of an overall performance improvement initiative |
| Lack of a strong leadership "bench" | Succession planning and leadership development programs |
| Cultural silos and lack of teamwork to solve problems | Change management program to break down barriers, facilitate rapid decision-making and mobilize commitment |
Conclusion: Good Leadership and Juggling Skills
Healthcare institutions that want to be among the best in their field need leadership with good judgment and solid juggling skills. It is not enough to excel in one key area, especially if it is done at the expense of another. The most successful organizations will be able to simultaneously protect clinical quality, manage costs, increase efficiency, appropriately leverage technology and improve satisfaction for both patients and staff.
Most hospitals would agree they have ample room for some measure of standardization of processes and management structures. If an organization is not confident it is ready for the Baldrige criteria, it should begin with an honest strategic assessment and then explore the potential for adapting new tools and techniques that can help put it on the path to performance excellence.
The Malcolm Baldrige National Quality Award is not about chasing fads or locking onto someone else's idea of a best practice. Experimentation and innovation are encouraged, but they will flourish only in an environment built on solid management systems – not in organizations where everyone has a different idea about what the vision is and how to make it a reality. The award also is not about productivity gains or financial success at the expense of the patient. The patient must be at the heart of every decision. True organizational success only comes through the quest to develop systems that better serve patient needs.