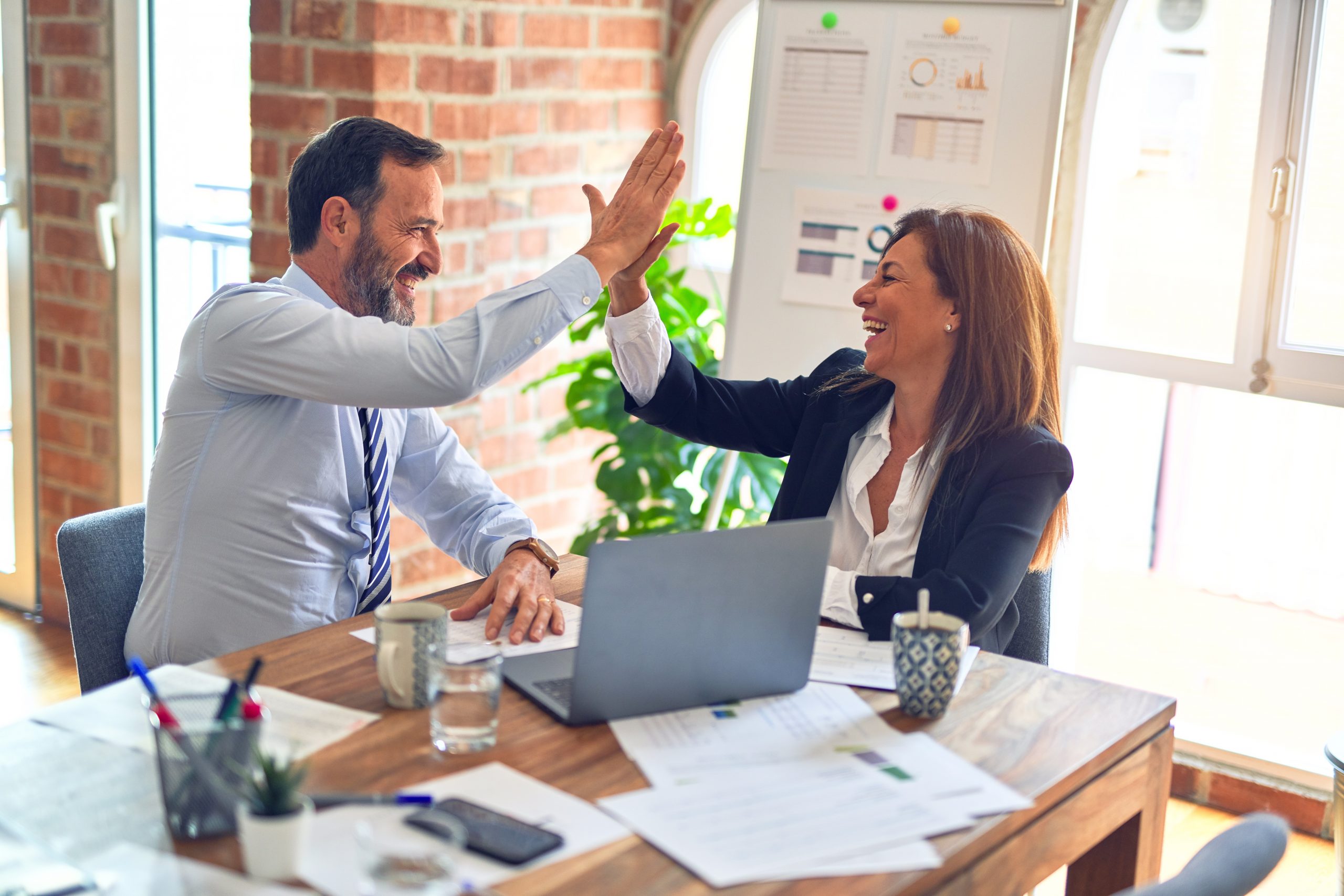 Leading a Six Sigma project team can have many challenges no matter the industry – manufacturing or services – and no matter the location from New York in the United States to New Delhi in India. But the challenges are more unique than most practitioners experience when the team is geographically scattered.
Six Sigma began in the realm of product manufacturing. The concept of forming teams of process participants led by trained Six Sigma leaders (Green Belts and Black Belts) was based on a model that assumed the team and the Belts were located within close geographical proximity – most often within the same physical plant.
The success of Six Sigma in bringing customer-driven quality improvement and value-driven cost efficiencies has resulted in its use in the service sector. Many service industries are based in geographically discrete locations. However, the nature of the service industry in today's technologically advanced society is such that nation-wide or world-wide businesses often operate with geographically diverse personnel. For example, one can imagine the difference between a factory producing automobiles, employing several thousand people on site, and a fast food company operating 200 locations, each of which may employ only a dozen.
Challenge of a Deployed Environment
Deploying Six Sigma in a geographically dispersed environment is a daily challenge to Earth Tech Inc., which has embarked on a robust deployment of Six Sigma during the last two years.
The company is primarily a consulting firm focused on environmental and engineering services. However, one component of the company operates water and wastewater facilities on a contract basis for municipalities and industries throughout North America, Central and South America, Asia and Australia. Curiously enough, this group of the company was the first to embrace Six Sigma fully. It is curious because, unlike manufacturing environments where operators and managers are generally on site, the projects operated by the company are for the most part comprised of smaller staffs scattered across the landscape from (in the U.S., for example) New Hampshire to California.
The Six Sigma method is founded upon a project improvement team, made up of process experts and led by a specially trained expert in the DMAIC method. But when the project team is comprised of members scattered across a continent, and the cost of travel is considered, the usual methods of team facilitation can be pretty much discarded. So what does a process excellence leader do to help keep a geographical diverse team engaged, to keep the project on track, to keep the Champion informed and to ensure that the full benefit of Six Sigma methods are realized by the company?
Critical Fronts for Meeting the Challenge
Experience with the North American contract operations business has shown that there are six areas critical for project success:
Technology
Creativity
Frequency
Buy-in
Drive for results
Upper management support
Most of these areas do not markedly differ from any other Six Sigma deployment, however, the application of each varies due to the nature of the geographic chasm.
1. Technology – Technology has always been the Black Belt's friend, especially in the way statistical analysis programs enhance the speed and accuracy of the Measure and Analyze phases. However, in a deployed environment such as Earth Tech's, it is important for all of the project stakeholders – especially the project team members – to have access to high speed internet connections, a common web-based meeting management program and remote conferencing capability. While it may be possible to help manage a project remotely without these capabilities, their presence certainly improves the function, inter-communication and coordination of the core team.
In one particularly creative example of adapting a Six Sigma team tool into this environment, the affinity exercise component of the Define phase was completed using NetMeeting, conference calling and PowerPoint with pre-prepared "sticky notes" (made up of colored boxes, each containing one concept from the results of an extensive voice of the customer survey). The Black Belt leading the project worked the PowerPoint, placing each idea into groupings at the request of the conference call participants (made up of project team members). The groupings were "Right Team/People," "Communications Tools," "Perfromance" and "Resources." The groupings helped the team initiate a CTQ tree (see below).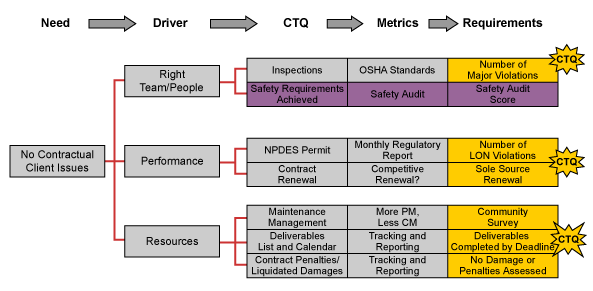 FMEA: What It Is
Key tool to prevent process failures before they occur
Used to prioritize risk
Used to document the process control plan
Used to document completion of projects
Should be a living document
2. Creativity – In addition to the creativity evidenced in the example above, other forms of creative thinking are important to success in a deployed team environment. These include developing methods to prepare team members prior to conference calls during which tools will be used. For example, preparing a brief overview of the purpose and application of a failure mode and effects analysis (FMEA) is critical to ensuring that a conference call aimed at completing the FMEA does not drag on (see adjacent box). Otherwise, individual team members might doze off while the Black Belt valiantly tries to keep everyone interested and focused on this important exercise.
3. Frequency – Frequency is perhaps the most difficult area in which to be successful in a deployed project. By its nature, the leader of the team is not present in the everyday lives of the project location. Therefore, the project team members, its leader and very often its Champion, feel that team calls/meetings are an intrusion into the rhythm of daily site activities. Ironically, this is the precise reason that frequency is so critical. Otherwise, the urgent nature of the problem to be solved by the team's improvements is completely lost on the very individuals being relied upon to make the improvement happen.
4. Buy-in – How does one accomplish buy-in of the operators of a process, when the leader of the project team is a thousand miles away? There are three ways to do this:
Communicate
Communicate
Communicate
It sounds trite, but intentional planned communication is the only way to achieve and maintain project team buy-in. In the instances where projects failed, or were put on hold, or lost relevance due to lagging effort, the primary reason was lack of communication.
Communication, of course, has to be two-way. The project team leader needs to stay in constant touch with the site project team (through formal meetings/calls, as well as informally with regular check-ins with the team members and Champion). Likewise, the project team needs to understand its role in communicating key results as process improvement moves forward.
5. Drive for Results – Any Six Sigma project that is not based on a burning platform, and whose accomplishment will not assure measurable results in a key company goal or strategy, will fail. If senior management and the project Champion are not regularly and urgently checking on how things are going at the project, everyone may as well pick up their marbles and go home.
The role of the Black Belt is to make sure that this senior management urgency is well-communicated to the project team. It also is critical to the success of any Six Sigma program to make sure team members understand where their project fits into this bigger scheme; and what they can expect personally as a result of their efforts. Significant financial results, for example, should provide some kind of tangible reward to those who accomplished them.
6. Upper Management Support – The area of upper management support is similar to, yet different from, the drive for results. Support has to include the resources (i.e., money, time, staffing, consultants, etc.) needed to ensure project success. Naturally the project team has to show a reasonable return on this investment, but Six Sigma is nothing if it is not about showing the way to higher quality and increased profitability. The whole point of doing a project is to find the right answer, not just any answer. This characteristic results in a return on investment that the company can confidently take to the bank.
The challenge in a deployed or remote project management environment is that gaining upper management support is as problematic as gaining local site buy-in. The same strategy – communication – also will bolster success in this area. Tailoring reports based on the voice of the Black Belt's customer – upper management – is critical to ensuring their ongoing support.
Avoiding the Pitfalls of a Deployed Environment
The pitfalls to project success in the deployed environment can be avoided if the Black Belt follows five simple commandments:
Keep in touch: Remember "communicate, communicate, communicate."
Keep it short: Conference calls and web meetings have to be short and to the point.
Do the homework: It is even more important than in single-location circumstances for the Black Belt team leader to come to each call/meeting prepared. It also is important for the Black Belt to prepare team members prior to each meeting so that they know what is expected of them.
Expect participation: Do not let team members off easily. If more than one has to be absent from any team gathering, abort and reschedule.
Remove roadblocks: It is especially important for Black Belts in this environment to pursue Champions aggressively when roadblocks occur.
Earth Tech's Six Sigma program is still young. Its Six Sigma practitioners, like most who are starting out, have a lot to learn. The unique difference is that they are learning and applying their skills and knowledge in a geographically spread out environment. Ultimately the demands are the same – the distance just makes them a little more challenging.