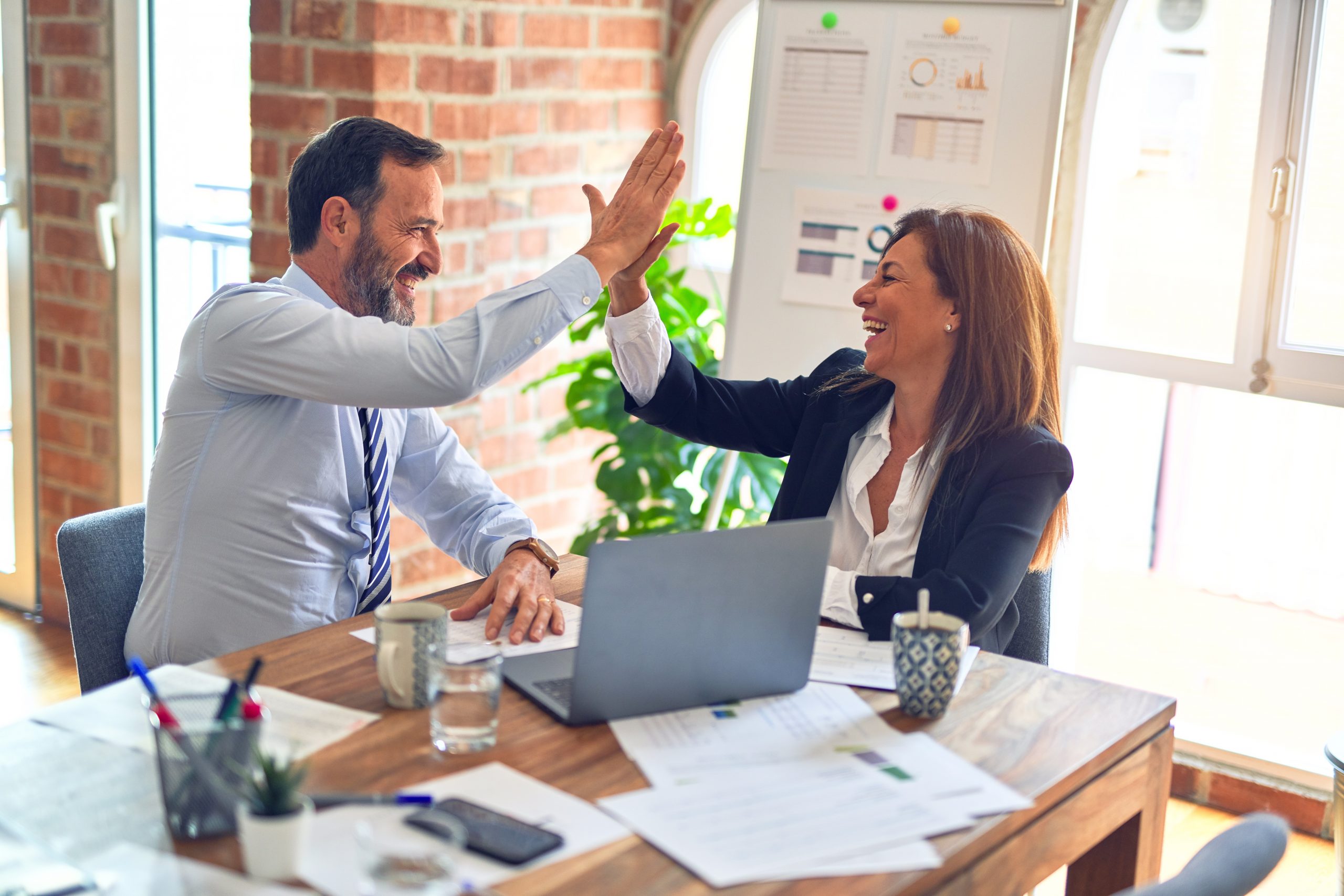 Many factors can play a role in corporate initiatives that succeed over the long haul and those that fail. In the blur of activities that accompany Lean Six Sigma deployments, it is easy to get trapped in the mire of the immediate and ignore the essential. So, here are the five factors that appear to have the biggest leverage in determining whether a company can achieve long-term success with Lean Six Sigma.
1. Leadership Engagement
Lou Giuliano, CEO of ITT Industries, summarized the importance of engaging leaders this way: "I've watched enough change programs and change efforts to know that the key is leadership. If you're not picking the right people who have leadership skills – not just the technician who understands the formula – to go work these projects and to lead your initiatives, you're going to have a tough time getting results. This is a change leadership program, and the leadership elements are first and foremost in terms of success."
Most practitioners used to frame this issue in terms of having the initiative "led from the top." But it was soon clear that leading was not enough. To move from initial success to long-term gains, executives had to understand at a gut level what was at stake, believe that Lean Six Sigma was vital to achieving corporate goals, take part in decisions affecting when and how and why Lean Six Sigma is used in the company, and weave Lean Six Sigma thinking and practices into the way they managed the company. That is what is meant by "engagement."
Engaged leaders understand their purpose and direction. They act in ways that are consistent with that chosen direction. They work to transfer their knowledge to those they lead. They make data, customers, quality, speed and processes part of the everyday conversation in the company.
To get to this level, leaders must understand how adopting Lean Six Sigma can help them engage all associates, achieve their personal goals and contribute to corporate success. Some methods helpful in moving from understanding to support to engagement include:
Peer-to-peer contact: Most managers and executives are open to learning from people who have walked in similar shoes, faced similar decisions, delivered on similar responsibilities. Fortunately, Lean Six Sigma is becoming so widespread that finding executives from other companies who have personal experience is getting easier and easier. An organization can contact companies in its area to see if their leaders can visit them or vice versa. A company can make time for its executives to speak one-on-one or in small groups with leaders from other companies. Such peer-to-peer discussions provide a powerful means to learn first hand how other executives have addressed similar challenges.
Leadership participation in simulations: Simulation-based, action-oriented workshops can immerse leaders in acting out Lean Six Sigma theories and methods. They can learn the fundamental tools and concepts that will drive change throughout their business. This helps them to visualize

–

and experience

–

the potential results of Lean Six Sigma tools.
Involving leaders in identifying priorities, assets and roadblocks: Few people willingly engage in anything that is imposed on them from above. The same is true of managers and executives. One way to make sure leaders want to get involved is to make sure Lean Six Sigma efforts apply directly to things that matter to those leaders, and that they have a voice in determining where, when and how it is deployed in their work areas.
2. 30-Day Quick Start
The longer it takes to achieve important results with Lean Six Sigma, the more chance a company has for skepticism to spread. Fast results help build buy-in and eliminate potential barriers to change. They also are a key to sustaining and maintaining momentum.
Goals that an organization deploying Lean Six Sigma should strive to achieve in the first 30 days include:
Identifying the core deployment team at the corporate level and any support teams at the division or department levels.
Training the deployment team.
Using a Kaizen model to establish deployment specifics (the deployment team is put through an intensive, highly structured week-long event where critical deployment decisions are made).
Establishing deployment measurements.
Identifying deployment resources (which specific people from which areas will go through the training in what sequence).
Setting the deployment schedule.
3. Adequately Preparing the Organization
While proper techniques are critical in achieving Lean Six Sigma levels of performance, change and improvement happen through people. To achieve a state where Lean Six Sigma becomes a natural part of the way of doing business, a company needs to address cultural and technical barriers. Having the right teams and team dynamics in place, with fully developed Lean Six Sigma leadership skills, can both accelerate the application of Lean Six Sigma and multiply its financial and operational benefits.
That means any training programs created must not only provide the necessary technical content, but also:
Create a sense of urgency around the need to adopt Lean Six Sigma now.
Create a shared vision of Lean Six Sigma.
Raise the level of teamwork and facilitation skills among Black Belts, sponsors and Champions.
Arm leaders and Belts with the right tools to manage change.
As Anne Mulcahy, CEO and chairman of Xerox Corporation noted: "Lean Six Sigma is not tools…it's the infrastructure and discipline in place to make business improvement an imperative. It will be painful, we will select and train our best people, those we can least afford to reassign, our future leaders, to enable a cultural change."
4. Project Selection Based on Value-Creating Potential
One of the most common criticisms of earlier improvement models like total quality management (TQM) was having resources wasted on projects that did not really make a difference in terms of meeting customer needs or meeting strategic goals. That is why an integral component of the Lean Six Sigma model is selecting and working the right projects. Those are the projects with the greatest potential for creating value in the organization. That is, they either contribute to profits or cost cutting or both. Such an approach needs to integrate knowledge about customer needs (voice of the customer), business needs and market forces.
5. Continue to Evolve
According to Jack Welch, retired CEO of GE, one of the key components of strategy, "is all about finding best practices, adapting them, and continually improving them. When you do that right, new product and service ideas, new processes, and opportunities for growth start to pop out everywhere and actually become the norm." This is exactly what happened at GE under Welch's leadership.
Companies that remain successful with Lean Six Sigma refuse to let it stagnate. They are constantly looking around for ways to keep it a living, breathing entity that continues to evolve. They adapt their deployment and add in new tools and approaches as they look for ways to keep getting better.
For example, when ITT Industries launched value-based Six Sigma in 2000, the company's vision was to create the overarching framework for continuous improvement that would dramatically multiply its stock price over time. The company had already developed and implemented a value-based management capability. It then began rolling out the Lean and Six Sigma capability, weaving in value-based leadership and value-based product development over time. The company added Hoshin planning to enhance its project selection process and to better link to its value-based management strategies.
To accelerate its best practice process, the company has a best practice symposium every year and gives out awards to the winning teams. It holds regional Black Belt conferences to share learning as well. The company did not try to do everything at once, but has, over time, built a sustainable, continuously evolving system to improve customer satisfaction and shareholder value.
The company's performance speaks for itself. In its 2004 annual report, this is what CEO Steve Loranger said: "Our performance over the past five years – more than 160 percent total shareholder return – far outpaces our peer group and the S&P 500…Since its introduction in 2000, [Value-Based Six Sigma (VBSS)] has significantly improved our on-time delivery, enhanced the quality performance of our products and services, and generated more than $1 billion in savings. VBSS is a set of incredibly powerful tools that are now an ingrained part of ITT Industries."
Conclusion: Achieving Long-Term Success
These five factors – leadership engagement, a quick start, adequate preparation, value-based project selection and continued evolution – are the levers that the most successful Lean Six Sigma companies use to achieve long-term success.
That said, it seems appropriate to adapt an infamous quote from George Orwell's Animal Farm: "All levers are equal, but some levers are more equal than others." In this case, the "more equal" lever is the very first one – leadership engagement. If an organization has leadership engagement, if Lean Six Sigma is seen by leadership as vital to achieving strategic goals, then the initiative will continue to survive even if the deployment is imperfect in other areas.