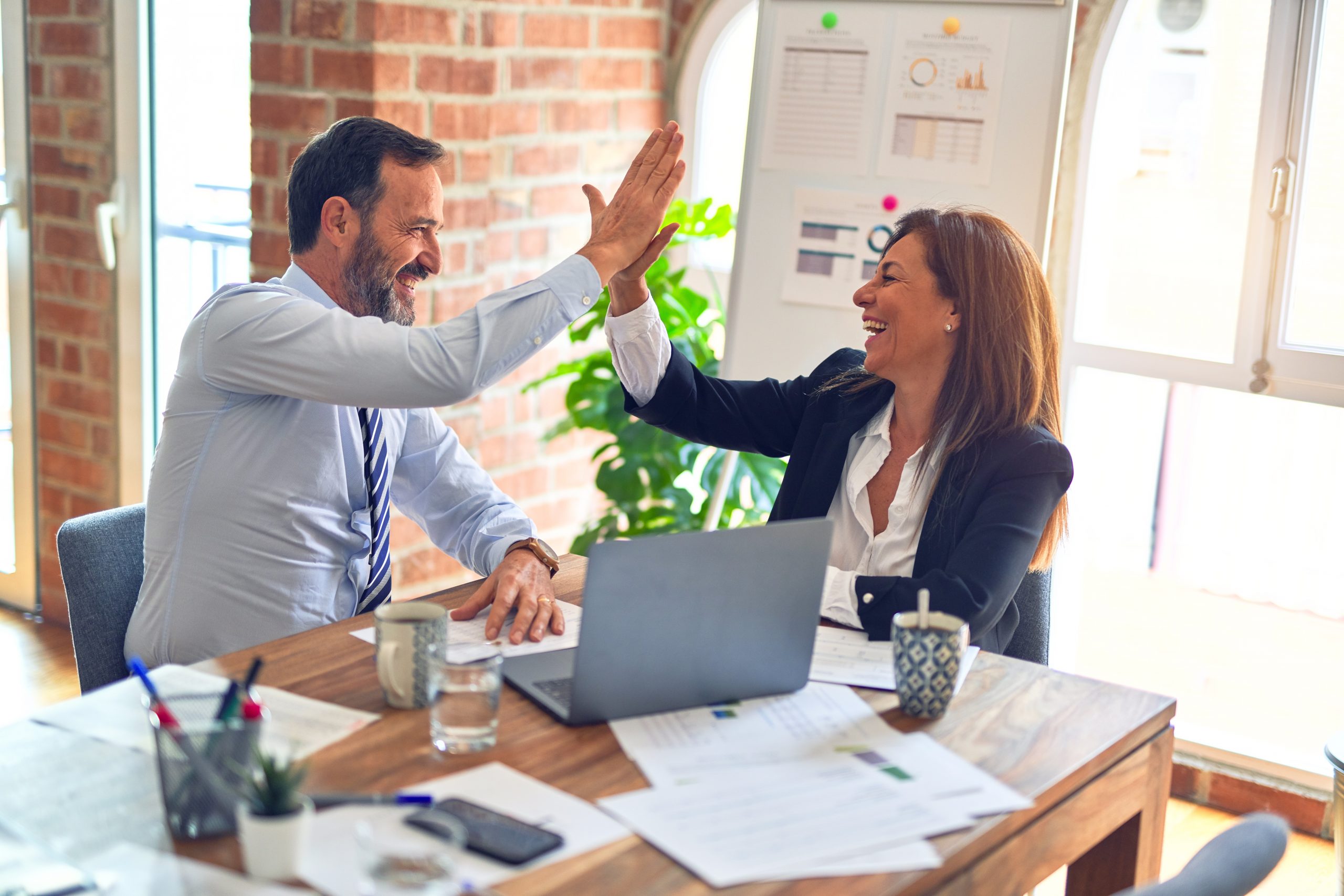 Most of you are familiar with the term Green Belt if you have taken any martial arts training. In the context of Six Sigma, achieving a ranking of GB is a representation of growth, so it is given to intermediate students who are learning to strengthen and refine their skills. Similarly, a Lean Six Sigma (LSS) GB also conveys a sense of basic skills, experience, and knowledge. 
In this article, we will explore how you can become a certified Green Belt, the role of the GB in an organization, and the benefits of being a GB or having Green Belts in your organization.
Overview: What is a Green Belt? 
The concept of using colored belts in Six Sigma was developed by Dr. Mikel Harry, a consultant and author. The graphic below shows the most common hierarchy of Six Sigma belts.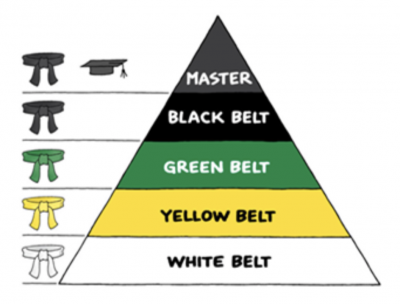 Image source: https://jkmichaelspm.blogspot.com/2020/09/six-sigma-belts.html          
As you can see, the GB is in the middle of the five-belt hierarchy. Above GB are the Black Belt (BB) and Master Black Belt (MBB). Below are the Yellow Belt (YB) and White Belt (WB). 
There are optional ways you can achieve your GB. You can start at WB, progress to YB, and then to GB. Or, you can get certified first as a YB and then move on to GB. Finally, you can just start at the GB level of training and be certified there.
To be known as a certified GB you must complete a set of common requirements. Since there is no centralized and recognized accreditation organization, GB training and requirements may vary depending on where you get your training and who you work for. 
Currently, GB candidates can get their certification from their own organizations, external consultants, professional organizations like the American Society of Quality (ASQ), or even universities or university related subcontractors. Training options include classroom, online, or using a hybrid approach of both classroom and online. 
As mentioned earlier, there is no standard set of requirements that are universally accepted. Here are some of the more common approaches to training and certification.
Training

Testing

It is recommended that interim assessments of progress be done during training.
At a minimum, candidates must pass a final exam that's cumulative in nature. Passing the exam without doing a project will allow you to receive a certificate of training — but not certification.

Project

It's recommended that a minimum of one project be completed demonstrating the candidate's knowledge and ability to apply the LSS methodology and tools, including statistical analysis. The project should have a moderate financial or operational impact on your organization.

Software

GB candidates need to learn how to use an appropriate statistical software package as part of their training program. Basic statistical analysis and graphical tools should be the focus rather than complex and advanced statistics.
The role of a Green Belt is part-time. They may serve on projects run by Black Belts and lead smaller projects in their own functional area. They are encouraged to utilize and apply their GB training and skills to improve the processes in their own work areas.
3 benefits of hiring a Green Belt 
One of the criteria for a successful deployment of Lean Six Sigma is the use of engaged, qualified, and competent LSS resources. One key resource needed to drive a successful implementation of LSS in your organization will be your cadre of Green Belts.
1. Recognized credential
The completion of training and project work is required for certification. The GB certification is widely recognized as an achievement that requires dedication and effort and helps set you apart from those who have not been certified.
2. Opportunity for future career path
Once you have your GB certification, you then become eligible for moving on to the BB level. If desired, you can even aspire to become a MBB. The special skills you acquired as a GB can give you greater visibility should you wish to move into a leadership role within a specific functional area. 
3. Resource for deploying in any continuous improvement effort
If your organization is launching any type of continuous improvement effort, you will need people with specialized skills, knowledge, and expertise. The GB is a part-time position dedicated to the successful deployment of continuous improvement, whether it be LSS or another methodology. 
What's important to understand about Six Sigma Green Belts?
Developing GBs within your organization takes time and money. You will need to appreciate what's involved in developing these important resources.
1. Wide application
The skills that your GBs develop can be applied in any function within your organization. GBs are used in manufacturing, sales, R&D, finance, marketing, logistics, HR, and even legal.
2. Valuable capabilities
The skill sets that GBs acquire during their training and project work give them the ability to solve problems and improve processes better than most other employees. It's important to understand what those skills are so that you make use of them.
3. Cost
The two weeks of training plus time working on their project all costs time and money. If you choose to have GBs in your organization, it will be a significant investment in your people. But, if you understand what they can bring to the organization, you will realize that it's money well spent — and the return on investment is well worth it.
An industry example of the value a Green Belt can bring 
Before getting around to certifying GBs, an organization typically first provides some training to its senior leadership and develops a group of BBs. That is what a medium-sized electronics business did.
The next step in their process was to start putting together training waves for GBs. Managers were asked to identify and select their top candidates. No one volunteered to be a GB, which placed the burden on the manager to pick the best people that they could since they would be held accountable for their selections and the success of their candidates.
Projects were initiated throughout the organization under the watchful eyes of the company BBs and MBBs. GB training and certification was also required of senior managers, some of whom went on to become BBs. It became a matter of pride to be a certified GB, and the culture of LSS quickly embedded itself in the company. There were millions of dollars in financial benefits that resulted from the GB projects, and the culture of continuous improvement became embedded in how the company managed itself from then on.  
3 best practices when developing Green Belts 
Developing GBs has been going on for decades. Here are a few hints on optimizing that process.
1. Training is not sufficient 
Training is necessary because your GB has to have the knowledge of what the LSS methodology is and how to use the tools of problem-solving and statistical analysis. Developing their ability to practice and apply those analytical and problem-solving skills is where you will get the benefits of having GBs in your organization.  
2. Assess the capabilities of your potential GBs
There are certain characteristics and traits a successful GB will have. Carefully assess not only their technical capabilities, but their people skills and project management skills. 
3. Provide a path to Black Belt if the GB wants it
The role of GB is a part-time activity for those continuing to perform their regular jobs. Some GBs on your staff may aspire to a more professional role as an LSS expert. Recognize the opportunity for those who may want to become a BB (or more), and provide a path to that role.
Frequently Asked Questions (FAQ) about Green Belts
How long does GB certification take?
Given the lack of a centralized certification body, this will vary by organization. The training element of becoming a GB typically lasts two weeks. Since certification requires the completion of at least one moderate project, it could take an additional 3-5 months to complete and implement the improvements to the process.
Before becoming a GB, do I need to have any LSS knowledge?
No. Depending on your organization, you may be selected to attend GB training without any prior knowledge or experience in LSS.
How does having a Green Belt really help me? 
Of course, the attainment of your GB certification can be personally and professionally satisfying. It may also help your career movement. If a hiring manager is deciding between two candidates of approximately the same capabilities, they will often select the GB because of their unique skill sets and demonstration of their commitment to continuous improvement — in this case, the continuous improvement of their professional skills. 
Wrapping it up
The GB plays a critical role in the successful deployment of LSS. It will require an investment on the part of your organization. To be certified, the GB will need to receive training and demonstrate their ability to apply their training to a project that has an impact on your organization. Becoming a GB can be a satisfying and rewarding personal and professional achievement.