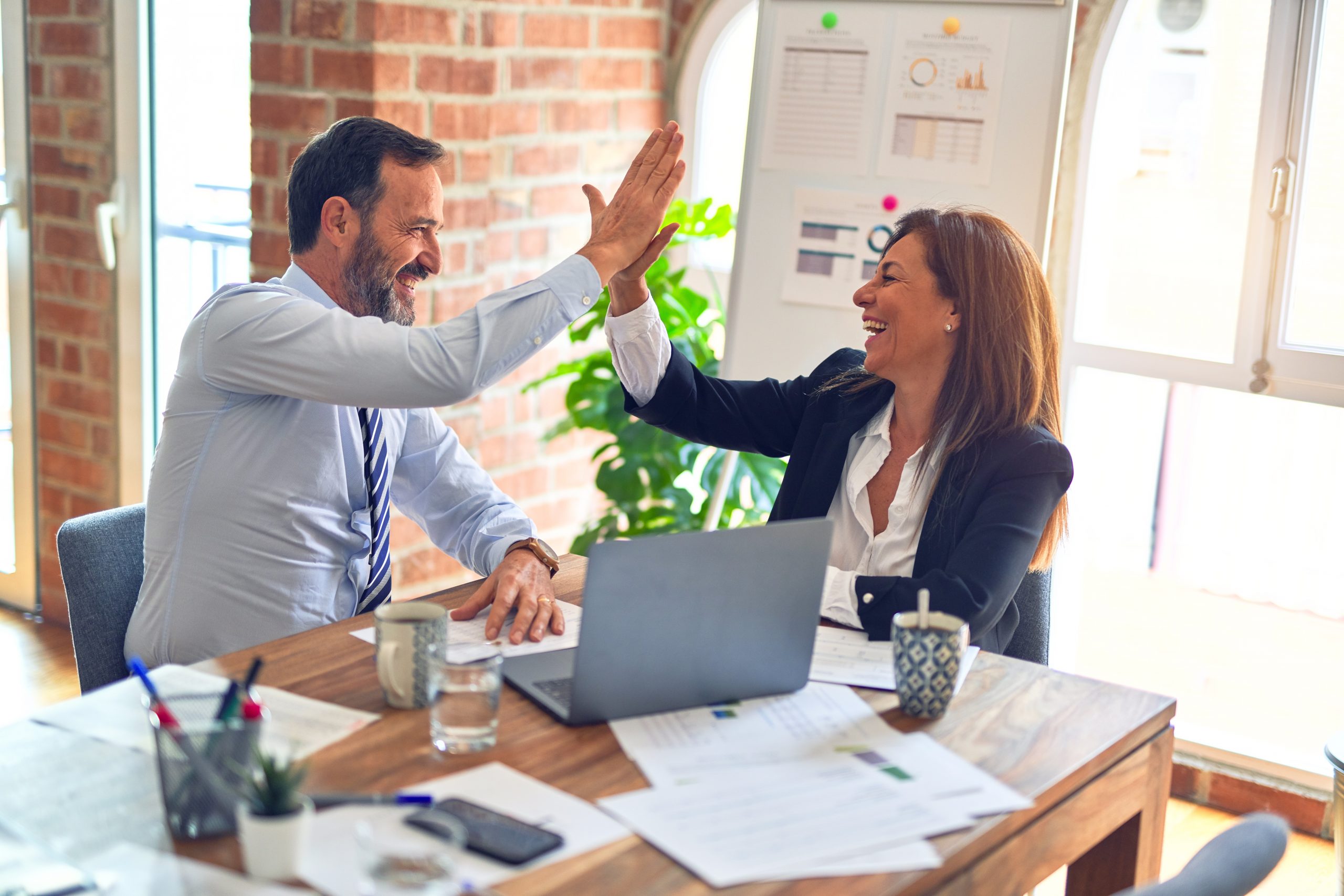 Here comes another tender opportunity for a prestigious automotive client; it's a great chance to get your company on the supplier list. The specification looks to be a good match, but they are asking for PPAP compliance. 
Time to get serious and understand what PPAP really is.
Overview: What is the Production Part Approval Process? 
The Production Part Approval Process (PPAP) is an industry quality standard that defines the approval process for new or revised parts, or parts produced from new or significantly revised production methods. 
It is most commonly utilised within the automotive industry and is integrated into the Advanced Product Quality Planning (APQP) methodology, which is mandated by many large automakers. In addition to the automotive industry, PPAP is used in aerospace and other high-value, high-technology manufacturing sectors.
The PPAP process verifies that the supplier understands all customer engineering design specifications and requirements and that the process is capable of consistently producing defect-free products during production runs at the required production rate.
There are 18 elements that make up a full automotive PPAP submission, starting with element 1 product design documentation through to element 18 Part Submission Warrant (PSW). Many well-known quality analysis tools and techniques are integral to these elements, some examples include:
Element 5: Process Flow Diagrams
Element 7:

Control Plans

Element 11: Process capability and statistical process control charts
PPAP is required for any new part submission as well as for approval of any change to an existing part or process. This could be a relatively trivial design or manufacturing change with no or low risk through to a fundamental functional or material change with high risk to the customer. 
To help reduce the burden of submission for the supplier and to add differentiation based upon the risk of change, a number of Levels for PPAP are defined and shown below:
Level 1: Only the PSW document is required. An example could be a non-critical manufacturing process change.
Level 2: PSW with product samples and limited supporting data from the PPAP.
Level 3: PSW with product samples and complete supporting data from the PPAP.
Level 4: PSW and other requirements as defined by the customer (in addition to Level 3)
Level 5: PSW with product samples and complete supporting data from the PPAP available for review at the supplier's manufacturing location. An example could be the introduction of a new manufacturing technique and  location.
An industry example of the 18 elements of PPAP and applicability to the 5 levels is shown below for reference only.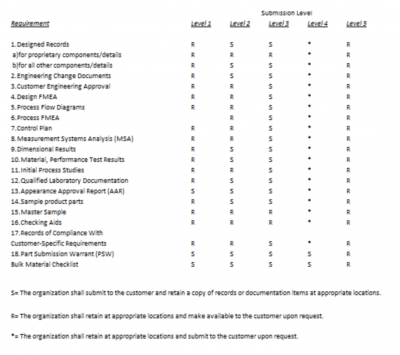 Image source: Tenneco PPAP Guidelines
2 benefits and 1 drawback of PPAP 
If you are tempted to ignore PPAP, then you will severely limit your potential customer base. Let's explore some benefits and drawbacks of embracing PPAP.
1. It's a well-defined and accepted quality process
There is plenty of industry experience, knowledge, and help available for organisations starting out in PPAP delivery. The 18 elements that make up PPAP are mature in content, and additionally, many of the quality tools used in the elements may already be well known and used in your organisation.
2. It opens the door to industries such as automotive and aerospace
Many companies in the automotive and aerospace sector will only do business with suppliers that demonstrate compliance to PPAP requirements. Ignoring PPAP will stifle your business growth in these sectors and hand the advantage to your competition.
3. It can be resource-heavy 
Depending upon the baseline structure and quality management experience of your organization, the resource impact to deliver PPAP can be heavy and should not be underestimated. However, in the mid- to long term, the benefits of embracing PPAP far outweigh the initial resource and training costs. 
Why is PPAP important to understand? 
The generation of a PPAP submission is a fundamental requirement when delivering your parts to industry. Let's clarify why it's so important.
It's a non-negotiable requirement for most automotive suppliers
If your business goal is to be a volume supplier into the automotive industry, then you need to understand and embrace PPAP. The good news is that other industries will recognise your commitment to quality, and business opportunities will open up.
It maps the methodology and tools required to show product conformance 
The 18 elements of PPAP create a highly defined methodology that includes use of well-known quality tools such as DFMEA, Control Plans, and Gauge R&R studies. Correct application of these tools helps develop and optimize products and processes and ensure product conformance.
It defines the skills, resources and structure needed in your business
Embracing PPAP is a big investment in both people and skills. Recruitment and training programs may be required to ensure staff have the right tools and experience. Departments may need to be restructured to ensure smooth cross-functional flow of data, products and processes.
An industry example of PPAP 
A Tier 1 supplier to the aerospace industry producing fan blades for turbines had been selected to support prototype engine development and testing for a new commercial airliner. The supplier was in an existing commercial relationship with the customer, and their quality management system – including PPAP submissions – were audited and accepted by the customer. Prototype trials were successful, and the supplier was nominated for production supply. 
Due to the required production volume and final assembly location, the production supply of the fan blades would not be the same as the prototype parts. Specifically a different production plant running at a higher run rate with different tooling would be in place. In discussion with the customer it was agreed that a Level 5 PPAP submission was required that would cover all of the 18 elements. Only when the PPAP and PSW submission was complete and approved would the supplier be able to ship parts for assembly.
Utilising existing PPAP experience and resources already in place at the supplier, the Level 5 PPAP submission was completed and approved in time for product launch. The submission included updates to the Process FMEA taking into account line layout changes for the production manufacturing site plus specific control plan changes, ensuring the run rate could be achieved with maximum first-pass quality.
3 best practices when thinking about PPAP 
As with most process-based activities, there are some fundamentals to consider to ensure timely and flawless delivery. Let's explore three of these. 
1. Make sure you have the correct resources assigned 
We have a couple of spare heads in manufacturing who can deliver PPAP, right? Think again: For a quality PPAP submission, you not only need the right number of people, but people with the correct experience and training. 
2. Planning is fundamental to successful delivery 
PPAP is part of Advanced Product Quality Planning, so it should be no surprise that planning is a key enabler to delivering a successful PPAP submission. Planning for success means sufficient time, resources, and skills that are dedicated to quality delivery and never left to chance.
3. Cover all of the key elements 
It sounds obvious, but with 18 elements to consider and provide evidence for, it can be all too easy to let one slide. Make sure you have people assigned with clear responsibilities for delivery and that you schedule internal reviews and audits as you build up your PPAP data.
Frequently Asked Questions (FAQ) about PPAP
1. What does PPAP mean? 
The Production Part Approval Process (PPAP) is a detailed process typically used by suppliers of parts or components into the automotive industry to verify and document that their parts and processes meet design specifications and customer requirements.
2. How many elements are there in PPAP?
There are 18 elements in a full PPAP, which includes documentation such as FMEAs, control plans, and process capability charts. All of these elements are provided as evidence that the production parts meet the customer requirements. 
3. Who is responsible for PPAP?
The supplier of the parts is responsible for performing the PPAP and generating the documentation for handover to the customer. 
Let's sum up PPAP 
To either become or stay successful as a supplier in the automotive and aerospace sector, PPAP is your partner and guide. Invest in the right resources, plan carefully, and then deliver defect-free products that meet your customer requirements.