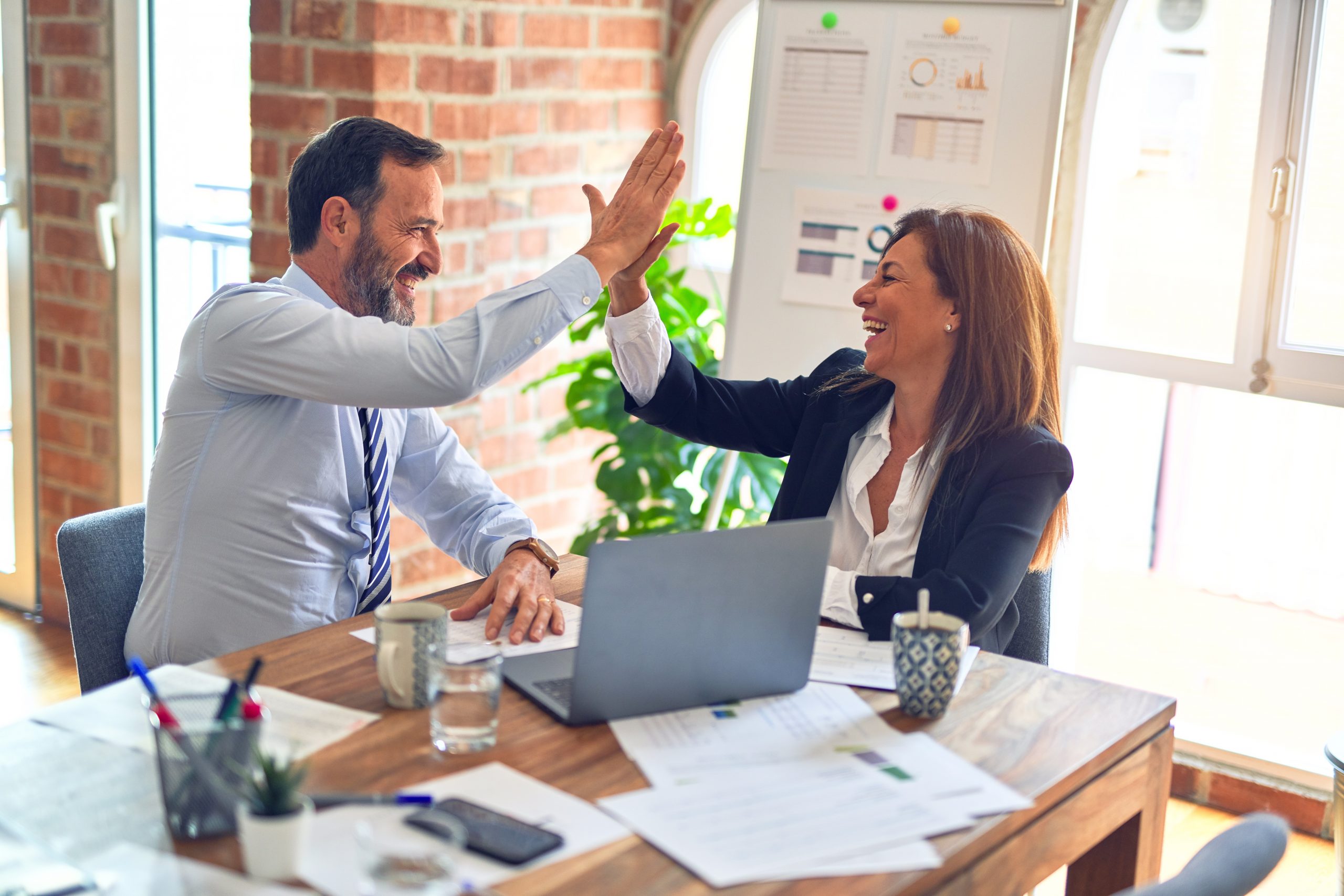 Correctly utilizing Part Submission Warrant documents builds customer trust and strong business relationships
Whether you are designing and manufacturing a $1 widget or a $10,000 turbine, if the part is destined to be in an automotive or aerospace application, your customer is going to be asking for PSW documentation. 
Wait a minute, what do they mean by PSW? Let's get into the details.
Overview: What is a Part Submission Warrant? 
A Part Submission Warrant (PSW) document or form is typically used for confirming that the supply of components into the automotive or aerospace industry meet the customer requirements and specifications. 
The document is a fundamental part of a managed quality process called the Production Part Approval Process (PPAP) and contains a summary of the entire PPAP documentation. Manufacturers may provide a PSW template for their suppliers to use that can help ensure that the document contains the correct information. 
The supplier will complete and send the PSW document to the customer for review along with the required PPAP documentation. Assuming the customer accepts the submission, they will sign and return the PSW document confirming product acceptance.
A PSW document is required by the customer whenever a product or process change is implemented that can affect or impact customer requirements. This could be a relatively trivial design change with no or low risk through to a fundamental material and manufacturing change with high risk to the customer. To help differentiate between these, and reduce the burden of submission for the supplier, a number of Levels for both PSW and PPAP are defined and shown below.
Level 1: Only the PSW document is required. An example could be a non-critical design change leading to a part number change.
Level 2: PSW with product samples and limited supporting data from the PPAP.
Level 3: PSW with product samples and complete supporting data from the PPAP.
Level 4: PSW and other requirements as defined by the customer (in addition to Level 3)
Level 5: PSW with product samples and complete supporting data available from the PPAP for review at the supplier's manufacturing location. An example could be the introduction of a new material and manufacturing location.
A typical PSW document will include fundamental information such as:
Part numbers and part descriptions

Engineering changes

Materials and compliance to regulatory health and safety requirements

Test result summaries
Importantly, you must also include declarations that all of the information provided is wholly representative of the parts being supplied. Here we have in essence the very meaning of PSW – a warrant that the parts submitted meet the customer requirements and functional specifications.
A relatively simple industry template is shown below to illustrate what may be required when completing a PSW document.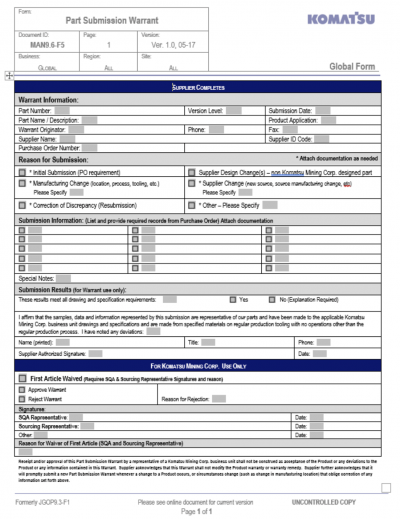 Image source: Part submission warrant – Komatsu
2 benefits and 1 drawback of PSWs
Filling out more forms and documents is just an unnecessary overhead, right? Time to think again and look at some benefits and drawbacks of PSW documents. 
1. It's part of a well-defined quality process
The PSW document is one very important part of a mature quality process that has been developed in industries such as automotive and aerospace to ensure compliance to customer requirements.
2. It's your entry ticket to supply in high-technology industries
As a supplier wishing to either enter or continue being successful in the automotive or aerospace industries, understanding the requirements of a PSW document is one of your key enablers. 
3. It takes significant resource to complete a good quality submission 
Don't underestimate the time and resources required to complete a high-quality PSW document. Even with company-specific templates, make sure you set aside sufficient time and assign people with the right skill set.
Why are PSWs important to understand? 
The creation of a PSW document is a non-negotiable requirement when delivering your parts to industry, so it pays to get it right.
It forms part of a quality management and delivery system 
The PSW document contains the summary of compliance to all the customer requirements and is officially submitted to the customer for review and acceptance. The customer will review, sign, and return the PSW indicating acceptance of your quality management and delivery.
It's a fundamental requirement for many in the automotive industry
Most automotive and many aerospace companies insist that their suppliers follow a specific Production Part Approval Process with associated PSW documents. Non compliance typically means you lose your competitive advantage and contract of supply.
Errors in submission have big negative impacts on resources 
It takes a significant amount of time to bring together the PSW document, so diligence is key. Always review the document internally before submission to the customer. Non-acceptance of PSW documents leads to intensive rework – especially to maintain original product delivery timescales.
An industry example of PSW
A Tier 1 supplier to the automotive industry providing starting aids for diesel engines was investigating an increase in warranty returns. The Six Sigma Black Belt assigned to the investigation, along with the engineering team, concluded that the root cause for failures in the field was the material composition of the interface washer between the starting aid and cylinder head. In discussion with the customer, it was agreed to change the interface washer material composition, and trials were conducted showing the root cause had been addressed.
As the interface washer was supplied pre-assembled to the starting aid and previously not available as a standalone service part, a number of changes to the PPAP and PSW documents were required. Close cooperation between Tier 1 and the OEM led to an agreement that the changes would require a Level 3 PSW submission, with product samples for both production and service and complete supporting data from the PPAP. 
Trials were completed at both the engine production plant and in the dealer network and were concluded successfully. The PSW documentation clearly identified the new part numbers and compatibility for original fit and service use. PSW documentation was signed off on, and the Tier 1 supplier was then able to revert to supply at full production rate
3 best practices when thinking about PSW 
As with many process-based activities, there are some fundamentals to consider to ensure correct and timely delivery. Let's explore three of these.
1. It's a team sport; don't go it alone 
The PSW document touches many areas of the business, from design through to manufacturing and quality. Make sure you have the right resources and team assigned.
2. Start preparing early, and be methodical 
The PSW document is intended to be a summary of all the elements that show you are meeting your customer requirements. Plan early, and never leave this until the end of development and manufacturing, especially if you are providing product samples.
3. Communicate and check in regularly with your customer 
Often, large organizations have specific PSW templates that you should use, and it's always good practice to check that your submission is meeting the document requirements ahead of delivery. 
Frequently Asked Questions (FAQ) about PSW
1. What is a Part Submission Warrant?
A Part Submission Warrant (PSW) is a summary document that covers all elements of the Production Part Approval Process (PPAP) typically used in the automotive industry.
2. Why do I need to provide a Part Submission Warrant? 
The PSW forms part of the Production Part Approval Process (PPAP), where a supplier will document and provide evidence that the part meets the requirements of the customer. The PPAP submission will be incomplete and therefore rejected without the provision of a PSW.
3. Is PSW the same as PPAP? 
No, the Production Part Approval Process (PPAP) is a lengthy and detailed process that evidences conformance to the customer requirements. The Part Submission Warrant (PSW) is a summary of all elements of the PPAP.
A final thought on PSW
If your business plans identify future automotive, aerospace, or other high-value manufacturing customers, then be prepared to positively respond to the request of providing PSW documentation. Plan ahead, get the details right, deliver on time, and then business success will be coming your way.