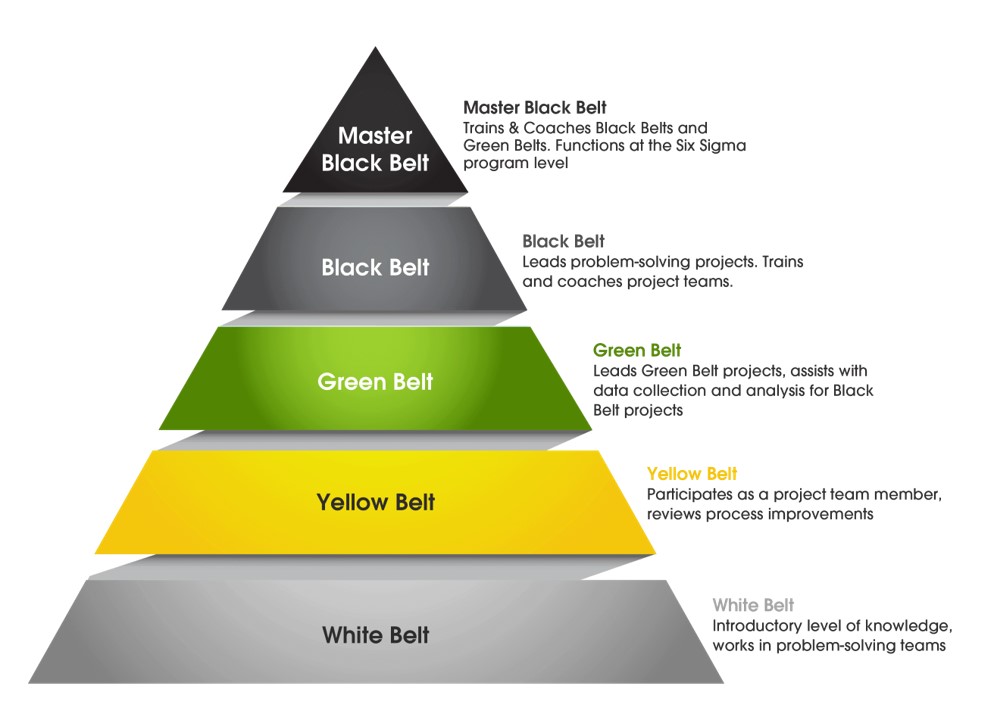 Does the term Master Black Belt sound pretty impressive? It should, because it is the highest level of achievement and expertise in Lean Six Sigma. Let's explore the role of a Lean Six Sigma Master Black Belt and how you can attain that pinnacle of success.
Role of the Master Black Belt
As you can see below, the Master Black Belt (MBB) is the top ranking in the Lean Six Sigma (LSS) belt hierarchy. To achieve the MBB ranking, you may start at the lowest level and then progress, like is done in martial arts. The most frequent model is to get certified as a Black Belt (BB) first and then progress to MBB.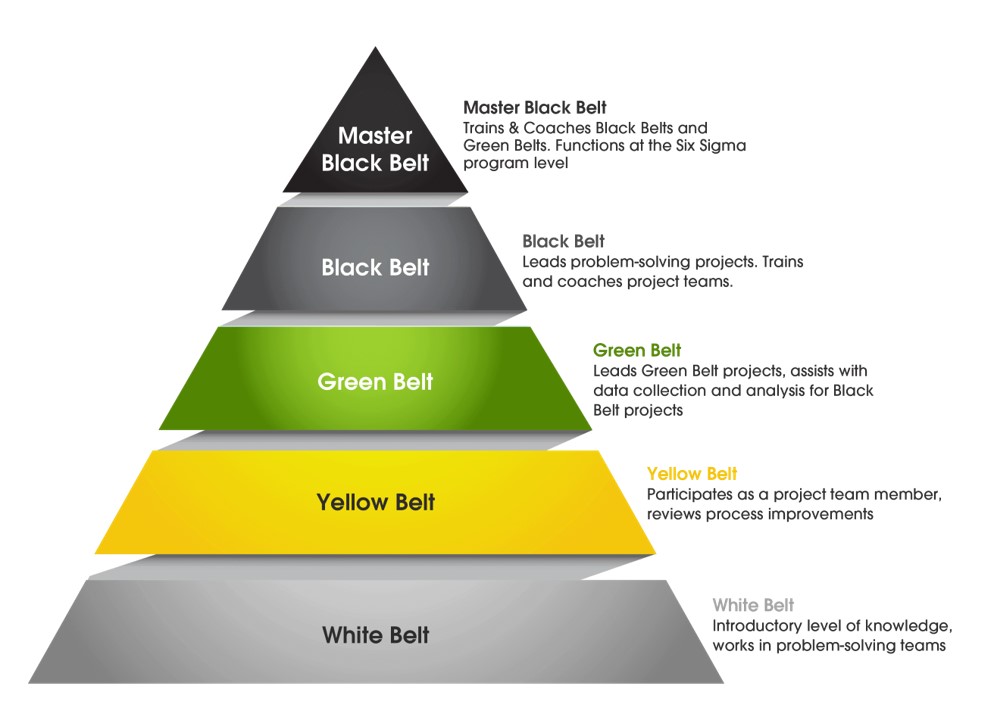 An MBB plays a key role in creating and implementing an LSS strategy for an organization. They work with an organization's executives and other stakeholders to determine specific goals and lead the LSS team toward reaching them.
Utilizing the LSS methodology, an MBB identifies improvement opportunities, analyzes the data, and helps charter projects to improve the organization. Once LSS teams are working on their projects, the MBB serves as a mentor and coach to the team to make sure the project is successfully completed on time..
One of the most important roles of an LSSMBB is being a change agent for implementing LSS in your organization. Since that often requires major organizational change, an MBB must be able to effectively communicate with a team, organizational leadership and the rest of the organization..
LSS teams often consist of members of varying levels of the LSS hierarchy; Yellow Belts (YB), Green Belts (GB) and Black Belts. When the MBB creates a project, the BBs serve as project managers, assisting and overseeing the Green and Yellow Belts. The MBB leverages his or her knowledge and experience to teach the rest of the team how to properly implement change.
An MBB also takes the lead in changing company culture through strategic continuous improvement and operational excellence planning, ensuring that organizational culture and projects support the strategic imperatives of the organization.
These are additional expectations and responsibilities of the MBB:
Two or more years in the role of BB before becoming an MBB
Five or more years of business experience with proven business acumen
Mastery of the tools of LSS  such as DMAIC, including Design for Six Sigma (DFSS), and Lean
Completion of at least 10 BB projects with significant business impact, both financial and/or operational
Experience in managing cross departmental and cross business projects
Strong change management and project management skills
Experience in delivering BB and GB training
Ten or more BBs coached to successful project completion and certification
Excellent written and verbal communication and presentation skills
Helping to develop and deploy organizational KPIs, metrics and dashboards.
Developing, maintaining, and revising the LSS training curriculum, delivering classroom training, and serving as liaison with external consultants in the delivery of LSS training
Networking with other Master Black Belts
Ongoing professional and personal development
How can you get trained and certified?
To become a certified MBB, there are a set of common requirements you must meet (although there is considerable variation in what is required). Since there's no recognized industry standard for training or certification, requirements may vary depending on where you get trained and the specifics of your role in the organization.
Currently, you can be certified internally by your organization if they have the necessary resources, external consultants, professional organizations, or even educational institutions such as universities or colleges. Training can be accomplished in the classroom, virtual (instructor-led or self-paced), or through a combination of both.
While variation exists, these are a common set of requirements and responsibilities that several successful organizations have used for certifying their MBBs. These are presented as guidelines and not mandates.
Training

Length of Training: 80 – 120 hours of advanced training beyond that for a BB.
Classroom Size: Limited to 10, one on one, or self-directed.
Curriculum: Should include such topics as; advanced analytical concepts, mentoring, project management, change management, interpersonal skills, training, and consulting.
Principal Instructor: Experienced MBB or subject matter expert with extensive knowledge, experience, competence, and training abilities.

Testing

It is recommended testing and/or assessment be done multiple times during training to assess and monitor the candidate's understanding and progress.
At a minimum, candidates must pass a cumulative final exam to receive a certificate of training. This exam should include both acquired conceptual knowledge as well as a demonstration of business, leadership, statistical and analytical skills.

Project

It is recommended that a minimum of 10 BB projects be completed that demonstrate a broad application of LSS methodology and tools, including statistical analysis.
Two MBB projects with a minimum Type 1 benefit of $1,000,000 each.
These projects should have a significant financial or operational impact on your organization.

Software

MBB candidates need to exhibit adequate skill and experience using an appropriate statistical software package. The ability to do interpretation alone is insufficient. MBB candidates should be sufficiently knowledgeable of statistical theory.
It is also recommended that the MBB candidate be proficient in additional software including Office Suite, Visio, and an appropriate program for project tracking.

Mentoring

An MBB candidate should mentor a minimum of 10 BB candidates to completion of their LSS projects.
Teaching
It is expected that an MBB candidate teaches, along with an MBB instructor, a minimum of 10 Six Sigma Body of Knowledge modules to classes of lower rank, GB or BB classes
FAQs: Lean Six Sigma Master Black Belt training and certification
What are some of the prerequisites for admission into a Lean Six Sigma Master Black Belt program?
Common prerequisites for entry into an LSSMBB program are:
You must already be a LSS Black Belt for at least two years
You should have completed at least 10 BB projects with significant impact on your organization
You should have done LSS training classes for lower level belts (White, Yellow and Green)
You should have coached and mentored at least 6 Green Belt projects to successful completion
Can I do my MBB training online?
Yes, there are some 100% virtual programs offered by consultants and academic institutions. There are also hybrid opportunities where you spend two one-week sessions on the university campus combined with two weeks of online training.
What kind of salary can I expect as a Master Black Belt?
Here are some Lean Six Sigma Master Black Belt salaries by percentile:
| | |
| --- | --- |
| PERCENTILE | SALARY |
| 10th Percentile | $120,997 |
| 25th Percentile | $141,300 |
| 50th Percentile | $163,600 |
| 75th Percentile | $186,700 |
| 90th Percentile | $207,731 |
Wrapping it up
In Lean Six Sigma, the achievement of certified Master Black Belt is the highest level of demonstrated expertise in the concepts, methodology and tools of LSS. The role is a full-time professional position with not only required technical capabilities but also leadership capabilities.
As an MBB you are uniquely qualified to take on senior leadership roles in your organization. Your leadership of your LSS deployment is critical to its eventual success and longevity as well as the creation of a culture transformation to continuous improvement and operational excellence. It also affords the opportunity to earn a generous income both within your organization and even more so as a consultant.