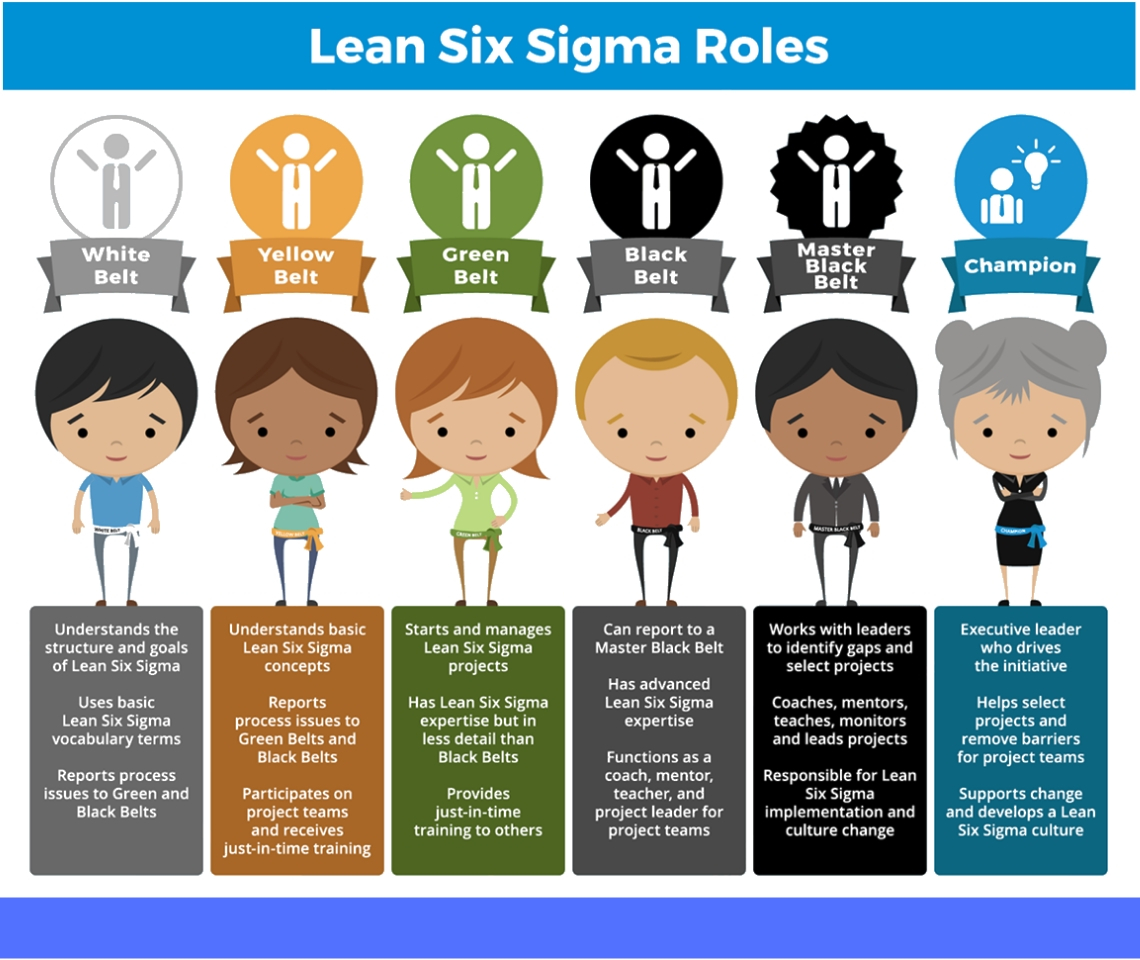 Dr. Mikel Harry is often credited with adapting the martial art concept of belt rankings to Lean Six Sigma (LSS). The hierarchy of belts indicates the level of training, competency, and acquisition of skills. While different organizations may have different names and colors for the levels of expertise in LSS, the following represents the most common levels of achievement with the Master Black Belt (MBB) being the most advanced and White Belt (WB) being an introductory level. The Champion serves the role as a deployment leader.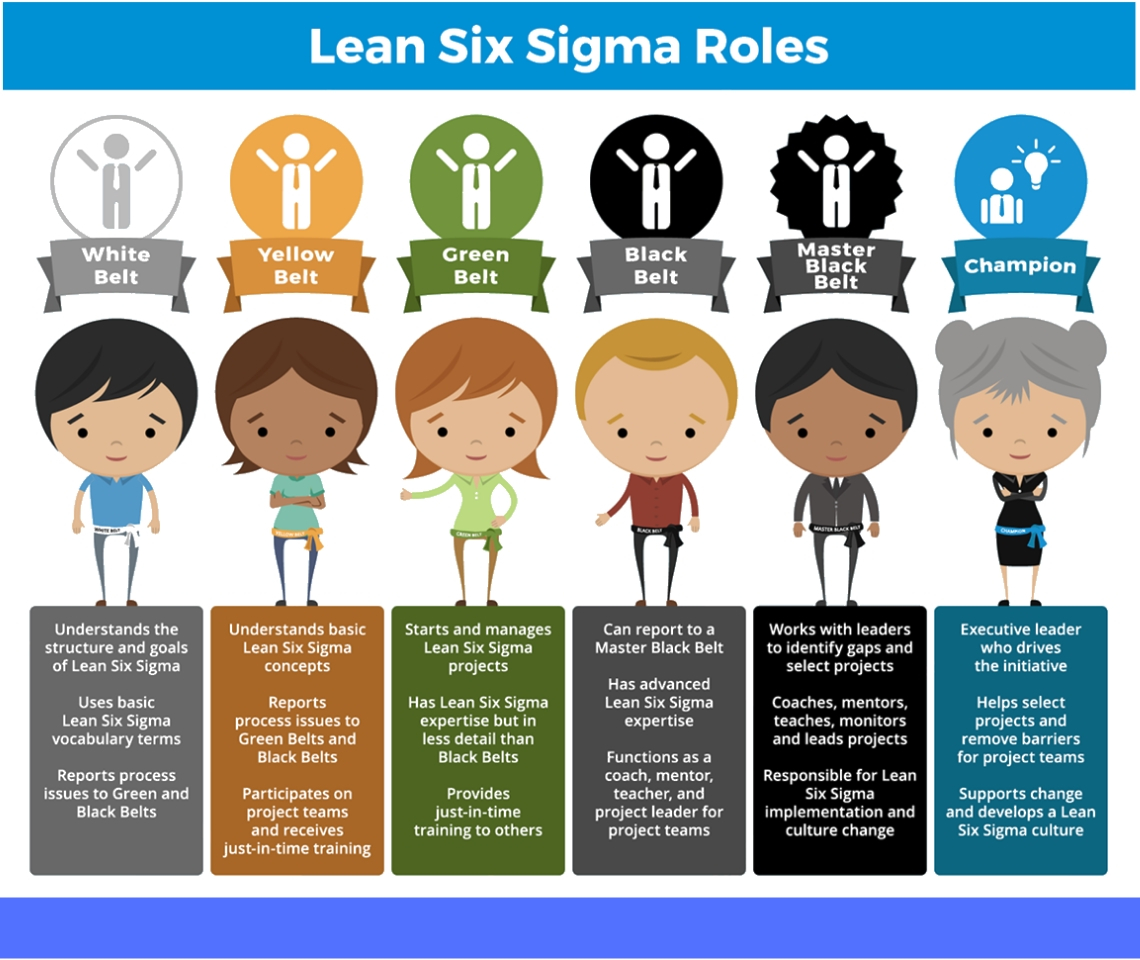 Role, training and certification of each belt level
Let's look at these various belt levels in a little more detail and explain what the role is and what type of training and certification you will need.
A trained and certified WB will be familiar with the basic elementary concepts, methodology and tools of LSS. They will not usually be regular members of LSS improvement teams unless they happen to be one of the Subject Matter Experts (SME) serving on the team. WB training is an introduction to LSS and can be valuable for:
people to understand why process improvement teams do what they do
knowing how the DMAIC process works
understanding how projects are selected
learning why your organization is implementing an LSS culture
Because of its elementary level, many organizations don't recognize WB as a true level of LSS certification.
There are no prerequisites for taking WB training. Many organizations use WB training during the onboarding process for new employees. This establishes the foundational understanding of LSS if the organization is engaged in an LSS implementation and deployment. Training may consist of 1-2 hours of either self-paced online training or sometimes in a classroom format. A short exam is often given to test for basic understanding and if all requirements are met, the employee will be certified as an LSS WB. This is a great motivational way to introduce new people to the LSS process.
The same process would be followed for existing employees who also need to be brought up to speed about LSS. If the organization has been deploying LSS, many people may not have yet participated so they may not have a full understanding of what the organization is doing. The WB training and certification may help allay some of their fears.
As a certified LSS YB, you will learn some basic knowledge and skills in the foundational elements of LSS methodology. You will have the ability to lead limited improvement projects and/or serve as a team member on more complex improvement projects led by a Green Belt or Black Belt. Your participation as a Yellow Belt is only part-time and is not a specific job title.
There is a wide variety of training options including online live, online self-paced, videos, educational institutions, consultants, and within your own company. The length of the training can range from a few hours up to 28 hours, with 16 hours being quite common. Since there is no common certification body, the variation of approaches, time, cost, and content is individually determined by who is training you.
You are probably familiar with the term Green Belt if you have taken any martial arts training. In the context of LSS, achieving a ranking of GB is a representation of growth, so it is given to intermediate students who are learning to strengthen and refine their skills. Similarly, a LSS GB also conveys a sense of basic skills, experience, and knowledge.
The role of a GB is part-time. They may serve on projects run by BBs and lead smaller projects in their own functional area. They are encouraged to utilize and apply their GB training and skills to improve the processes in their own work areas.
There are several ways you can achieve your GB. You can start at WB, progress to YB, and then to GB. Or you can get certified first as a YB and then move on to GB. Finally, you can just start at the GB level of training and be certified there.
In the context of LSS, achieving a ranking of BB denotes a level of success and competency much like it does in the martial arts. To achieve the BB ranking, you may start at the lowest level and then progress. The most frequent model is to get certified as a GB first and then progress to BB or you may start your path directly at the BB level. BB will generally be a full-time professional position in your organization.
Some high-level roles for the BB typically include these activities:
Mentor individuals in the company on deploying and implementing LSS in the organization
Train people on the basics of LSS
Coach and support local projects in the areas they may be assigned to
Identify improvement opportunities and execute BB-level projects
Be a change agent and advocate for LSS in your organization
To become a certified BB, there are a set of common requirements you must meet. Since there's no recognized central accreditation organization, requirements may vary depending on where you get your training and experience.
Currently, candidates can be trained and certified internally by their own organizations, external consultants, professional organizations, or even educational facilities such as universities or university-related subcontractors. Training can be accomplished in the classroom, online, or through a hybrid of both.
The MBB is the top ranking in the belt hierarchy. To achieve the MBB ranking, you may start at the lowest level and work your way up the certification ladder. The most frequent model is to get certified as a BB first, and then progress to MBB. The role of MBB is a full-time position often at a leadership level.
Depending on your organization, these are some common expectations and responsibilities of the MBB:
Two or more years in the role of BB
Five or more years of business experience with proven business acumen
Mastery of the tools of LSS process improvement (DMAIC), including Design for Six Sigma (DFSS), and Lean
Completion of at least 10 BB projects with significant business results
Experience in managing cross departmental and cross business projects
Strong change management and project management skills
Experience in delivering BB and GB Belt training
Ten or more BBs coached to successful project completion and certification
Excellent written and verbal communication and presentation skills
Helping to develop and deploy organizational KPIs, metrics and dashboards.
Developing, maintaining, and revising the Six Sigma training curriculum, delivering classroom training, and serving as liaison with external agencies in the delivery of Six Sigma training
Networking with other Master Black Belts
Ongoing professional and personal development
To become a certified MBB, there are a set of common requirements you must meet although there is considerable variation in what is required. Since there's no recognized central accreditation organization, requirements may vary depending on where you get trained and the specifics of your role in the organization.
The Champion is the person that develops the idea to undertake an LSS project within a part of the business. They are the person who sponsors the deployment. They will generally be a senior manager, often an executive within the business such as a Vice President or Director. They should have training in LSS for Champions to have a deep understanding of the principles of the methodology.
The LSS Champion plays several important roles in leading LSS teams to the successful completion of projects. Their responsibilities are to:
mentor and coach LSS teams with the GB, BB or MBB
remove organizational obstacles the team may encounter
ensure projects are aligned with the business's strategic plan
maintain team focus
ensure timely completion of projects
The LSS Champion will support the project team by providing several infrastructure needs such as:
supporting resources
inter-organization communications
LSS knowledge and process driven techniques
project management skills
business metric development
training needs for project teams and company employees for LSS
spread and sustain improvements
Generally, Champions are not officially certified in that role, but it is critical they receive appropriate training. This training can range from 1-4 days depending on the needs of your organization. The content focuses more on the strategy and logistics of managing the direction of the LSS program, the mechanics of process improvement teams, oversight of the LSS BBs and MBBs and the project portfolio. They are not experts in the tools and methods of LSS since their role is one of leadership rather than being an LSS SME.
FAQs: Lean Six Sigma certification levels
Is Green Belt certification considered a full-time professional role in most organizations?
No. Green Belt is a part-time role which supplements your current job responsibilities. You will not see Green Belt jobs posted on job boards. In some cases, it might be an added qualification for a job which would give you an advantage if you were Green Belt trained and certified.
If I am a Master Black Belt, am I career-limited to just doing Lean Six Sigma work?
If you wish the MBB role to be your career landing point, then you can enjoy doing Lean Six Sigma work for the rest of your career. But if you aspire to move up in the organization or move out into other roles, the skills and knowledge you have as a MBB can make you a desirable candidate for roles outside of Lean Six Sigma.
Is it worth it to be trained and certified as a Yellow Belt?
There are two key benefits for you to be trained and certified as a Lean Six Sigma Yellow Belt. First, you will learn skills and tools to help you improve your own work process. That will make your work life less stressful and more enjoyable as you reduce waste, improve throughput, and produce a better-quality product or service. Second, if your organization is deploying Lean Six Sigma, your initiative and drive to acquire Lean Six Sigma knowledge and skills will set you apart from others. This may help you get better job opportunities and possibly promotions over those who haven't shown the same effort.
In Conclusion
Lean Six Sigma offers the opportunity for you to gain new and important knowledge and skills which should be beneficial to your organization. It is your decision to decide if you want to be trained and certified and at what level.
Getting trained and certified at the White Belt and Yellow Belt levels is a good place to start to see if you enjoy using the tools and methods. From there, you may decide to progress to Green Belt and then make the leap to a full-time and professional certification as a Black Belt and eventually a Master Black Belt. There are numerous paths you can take, so research them carefully so you select the right one for your needs and career goals.